New Ships
New Equipments
Maps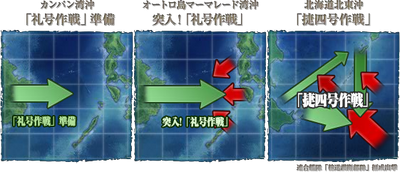 E-1
E-2
E-3

Regular Fleet

Regular Fleet

Combined Fleet

Boss gauge

Boss gauge

TP Gauge

+

Boss Gauge
ID
Requirements
Rewards
Note
RG01

水上反撃作戦【礼号作戦】を完遂せよ!


Complete Operation Rei-go
Clear E-2.
500 / 500 / 0 / 0
x5 x1
RG02

親善艦参加観艦式を実施せよ!


Have Friendly Ship Participate in Naval Review
Send any 6 ships (flagship Lv 6+, total Lv 15+) to event expedition 175 (15 mins).
100 / 100 / 300 / 100
Unlocks E-3 & 203mm/53 Twin Gun Mount
Require: RG01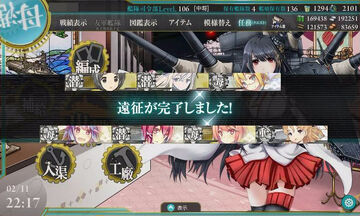 After completing the quest/expedition, you will see your six ships and Zara return together despite not actually having her.
| Audio | JP | EN |
| --- | --- | --- |
| | 提督、Grazie。ザラ、光栄です。これからもよろしくね! | Thank you, Admiral. It is my honor to be here. I'm looking forward to working with you! |
Quick Notes
General
According to the Devs' Twitter, the Final Map of the Event will be slightly more difficult if the player chooses Hard Mode (甲)

Drop Table
If the table cell shows hard+, that means the ship has only been recorded to drop in hard so far. It might also drop in medium or easy but just they have not been recorded. Similarly, the other labels are sorted this way as well.
Anecdotal Information
The following information was in regards to the what was then upcoming Winter 2016 Event via Comptiq magazine. It is now recorded here for archival purposes only. Credits to Rephira for providing translations.


The Extra Operations (E-3) will have a new gimmick which is a bit different from the gimmicks so far (not armor chipping) There will be new type of abyssal attacks based on the concept of "land-based aerial attacks" PT Imps will be coming back for the first half of the mission (likely E-1~E-2 *comment from translations). Mechanics have been set so that you can clear the event even if you lack the ships relevant to the Operation Rei-go (
Kasumi

,
Ashigara

,
Ooyodo

etc.) by changing the difficulty. Matsu-class Destroyers will still take some time for implementation. The US Warship will make its first appearance on KanColle Kai, and will be added to the browser version later, during Spring of 2016. The US Warship is related to the new US equipment distributed as a reward, and will be voiced by a seiyuu that will make her first appearance to the franchise. As part of this year's theme, KanColle Developers want to implement "friendly land-based aerial' mechanic. Other than that, Devs also want to implement the "Type 1 Land-based Fighter", "Ginga" and land-based ASW aircraft "Toukai". Devs have also commented that they would like to implement local-defense interceptors and other famous aircraft of the IJA. There are other real-world collaboration that are in plans at the moment.
Community content is available under
CC-BY-SA
unless otherwise noted.