WG42 (Wurfgerät 42)

No.126

WG42 (Wurfgerät 42)

Anti-Ground Equipment

Refittable Class
Coastal Defense Ship
Destroyer
Light Cruiser
Torpedo Cruiser
Heavy Cruiser
Training Cruiser
Aviation Cruiser

Fast Battleship

Battleship

Aviation Battleship

Light Carrier
Standard Aircraft Carrier
Armored Carrier

Seaplane Tender

Submarine
Aircraft Carrying Submarine
Submarine Tender

Fleet Oiler

Repair Ship
Amphibious Assault Ship
Introduction
かの国で開発された対地対艦攻撃用の艦載ロケットランチャー装備「WG42」です。
Uボートにも搭載され、実際に運用されました。命中精度には難がありますが、ごく浅い深度なら水面下から発射可能な、潜水艦発射対地ミサイルのご先祖様のような装備で、主に対地攻撃に有効です。
The WG42 is a ship-borne rocket launcher developed from another country (Germany) for anti-ground and anti-shipping attacks. It can be used aboard U-boats where it saw practical use. Mainly effective for anti-ground strikes, suffered from poor accuracy; however, it can be fired from a shallow depth similar to the anti-ground submarine missiles of today.
Notes
Unbuildable
Category Equipment that consume WG42 (Wurfgerät 42) during improvement not found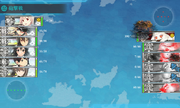 For Soft-Skinned Installations, the bonus for one equipped WG42 is +75 to Basic Attack Power (applied after Type 3 Shell's 250% damage bonus, affects both day and night battle), ~110 for two, ~140 for three, and ~160 for four[1][2]. For example, a non-modernized CAV with 60 total firepower equipped with two Main Guns, WG42, and Type 3 Shell will have (60 * 2.5 + 75) * 1.2 = 270 Pre/Post-Cap Attack Power in normal condition for Double Attack in Night Battle.
For Supply Depot Princess, an additional post-cap modifier is also applied: 125% for one WG42, and ~162.5% for 2-4[3].
Unlike ASW, ships equipped with this are NOT forced to attack an installation-type enemies and will choose randomly as usual. Equipping this also enables submarines to attack installations. Daytime Artillery Spotting[4] and Night Battle special attacks are NOT disabled[5][6] - a ship with the ability to perform a Night Battle Double Attack for instance will perform the Double Attack; while the WG42 mushroom cloud animation does not play, the damage IS still increased against Installations.
See also