A little personal informationEdit
I love Soviet military stuff
I love 2D Girls.
My story on Kantai CollectionEdit
I started playing a few days before the event Summer 2015 Event. I really love this game, I consider it as my favorite game, I weighed all the suffering it has given me yet I love it.
Events playedEdit
Akatsuki Ryuujou Akagi Hiryuu Isuzu
Future wives: Chiyoda Mutsuki Gangut Sazanami Kunashiri Ishigaki Fumizuki
Gangut StatusEdit
Since I failed in the Spring 2017 Event, I haven't been able to get Gangut!. The curse led to extreme farming in the Winter 2018 Event reaching more than 300 sorties! After those 300+ sorties she did not dropped.
I'm patient, I wait for an event to get it ...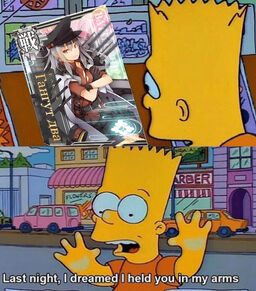 Community content is available under
CC-BY-SA
unless otherwise noted.