Hello.... I'm Mohar from Malaysia...... Just start playing at 28 January 2015.... a gambler player but still considers strategy as number 1.....A wiki adventurer and sometimes I will make a raw comment on what I'm thinking about.....Still need help and also helping others as well! Yoroshiku onegaishimas!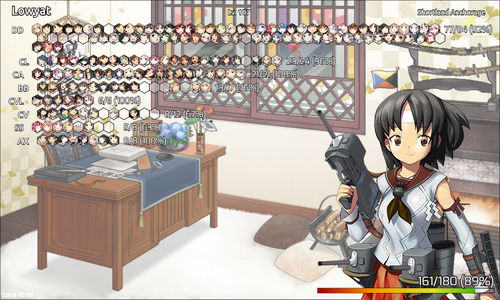 Status as Teitoku

Edit
Admiral name : Lowyat

Server : Shortland Anchorage
Favourite Ship : Fubuki(precious starter), Hiei, Akagi, Hiyou, Houshou, Shouhou and Ashigara
Married Ship : Hiei
Most Favourite Ship(fall in love) : Nagara
Most Favourite Class : CL Nagara Class
Sunk ship : Ryuujou(get her back and already in second remodel), Yura(get her back and already remodel), Furutaka(get her back and already in second remodel) and Hachi(Have a backup to replace her)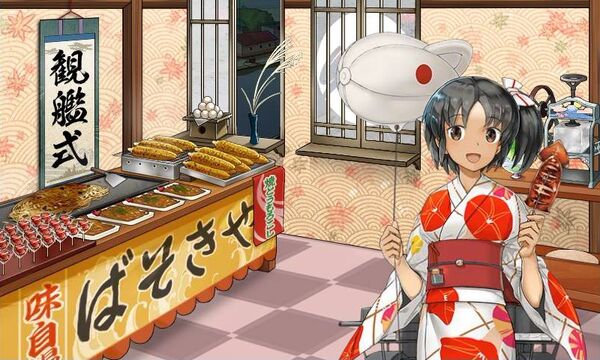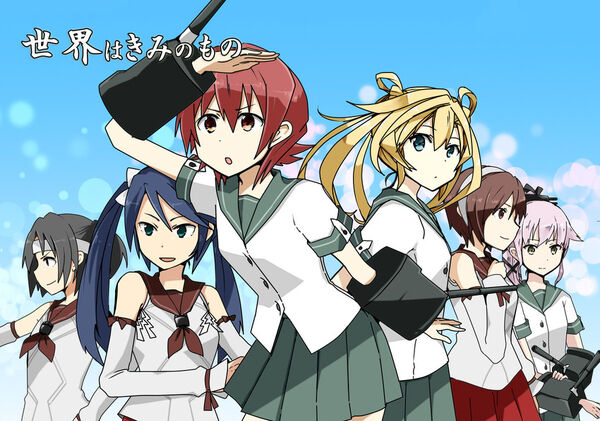 Map-Clearance Progress
Edit
World 1 = Cleared
World 2 = Cleared
World 3 = Cleared
World 4 = Cleared
World 5 = Cleared
World 6 = Currently in 6-4, probably will not finished in short time.
Event Experience
Edit
Winter 2015 : 2/5 maps completed
Spring 2015 : 6/6 maps completed (Finish the event)
Summer 2015 : 6/7 maps completed
Fall 2015 : 5/5 maps completed (Finish the event)
Winter 2016 : 3/3 maps completed (Finish the event)
Spring 2016 : 7/7 maps completed (Finish the event)
Summer 2016 : 4/4 maps completed (Finish the event)
Fall 2016 : 5/5 maps completed (Finish the event)
Winter 2017 : ?
My Base Kanmusu's Nickname Based On The Players and Myself (LOL section)
Edit
Destroyers:
Edit
Fubuki : The Winter Soldier (Bucky and Blizzard combination, get it?)
Hatsuyuki: The Hikikomori Princess
Miyuki: The Unlucky-but-Cool AF Girl
Murakumo: The tsundere who wields the long spear
Isonami: The Wavy Ponytail Nice Girl
Ayanami: Destroyer's Ace (Looks at her DD stats) and Demon God Ayanami
Shikinami: The girl who always thinks that she being forgotten in the base (Heck she is one of the veteran expeditioner)
Sazanami: Passionate Maid
Akatsuki: Self-Proclaimed Lady
Verniy: Mother Russia (Need to say anymore?)
Ikazuchi: Thunder Veteran and Reliable Girl
Inazuma: Lightning Clumsy Kid
Kisaragi: February Sexy Lady
Yayoi: March Expressionless Girl
Uzuki: Lightbulb April Rabbit (Don't get mad guys)
Satsuki: Miracle May(Absolute beast in my fleet during sortie even though her stats is not so good)
Minazuki: Sweet Girl of June
Fumizuki: July Ultimate Jailbait
Nagatsuki: Wake Me Up..... When September Ends!
Mikazuki: The Humble Girl (I guess)
Mochizuki: Hikikomori with megane - Total perfection
Hatsuharu: Pantene Model (Her Hair!)
Wakaba: FBI Agent in Disguise
Hatsushimo: The Young Rambo and The First Teacher (She's the first one who gives the job specs)
Shiratsuyu: The "Number One!" Girl
Shigure: PTSD Yandere Torp Queen and Shigure of Sasebo
Murasame: The Cabaret Girl
Yuudachi: Nightmare of Solomon (Need to say more?)
Samidare: Graceful but Clumsy Girl
Kawakaze: Energetic Young War Machines (Slamming to her first event without max mod in Fall is a good achievement)
Suzukaze: Retired Expeditioner (For now in my fleet)
Ooshio: The Positive Girl
Michishio: Appreciative Tsundere Girl (That "Domo! Arigatou....." though)
Arashio: Yandere Middle Schooler
Asagumo: Error-Chan in action
Yamagumo: Sleepy Girl (Waiting for her to finish her lines are painful as hell)
Arare: Robotic Girl (who is not rare at all)
Kasumi: Tsundere Anti-Air FS Destroyer
Kagerou: Insomniac and Energetic Girl
Shiranui: Bad ass Middle-schooler yet Commander in Battle
Kuroshio: Clinging Village Girl with Deep Accent
Oyashio: Sexy Whisperer Girl
Hatsukaze: Passionate Bucket Gainer (My Bucket-Gainer Expeditioner FS DD)
Yukikaze: The Grim Reaper and Yukikaze of Kure
Amatsukaze: The Small Tanky Girl (Highest Armor DD) and Boiler-Chan
Tokitsukaze: Alarm Clock Doggy Girl
Urakaze: Seductive Girl (Yeah, she has a nice figure)
Hamakaze: The girl who face puberty too early (Seriously? that asset....)
Tanikaze: "Get damaged and you go to jail" Girl
Nowaki: Tomboyish-looking DD (but have a cute voice!)
Arashi: Kamen Rider Girl! and Midway Weaklink (have a boyish tone)
Hagikaze: Hatoko Twin (Her VA voice is exactly same for this ship)
Maikaze: The Dancing Girl
Yuugumo: The Curvy Girl (Full of Eroticism)
Makigumo: Spooky Megane Little Girl (Her uniform sleeves looks spooky to me..)
Kazagumo: Cautious Girl (Mainly about her sister
Naganami: Gorgeous Multicoloured Hair Girl (That hair is majestic)
Takanami: The Pessimistic Girl with Derp face. ( ͡° ͜ʖ ͡° )
Kiyoshimo: The BB Wannabe
Shimakaze: The Speed-Freak Lonely Girl
Libeccio: The BB Wannabe 2.0
Teruzuki: Sexy AA Black Widow
Hatsuzuki: Young AA Master
Kamikaze: The Oldies who is ready-to-die for her country anytime.
Asakaze: Cute Little Girl who loves Ahegao (That damage face though).....
Light Cruiser/Training Cruiser/Torpedo Cruiser

Edit
Tenryuu: Chuunibyou with Sword Girl
Tatsuta: Dangerous Imouto
Tama: Catwoman (Literally)
Kitakami: Super KTKM sama (Torp Cut-in Shishou)
Ooi: Crazy Psycho Lesbian Killer
Kiso: Captain of the Pirates
Nagara: My Love!, The Athletic Girl and Queen of my Fleet
Isuzu: "Expert in Specialised Field" Girl (AA/ASW prominent CL)
Natori: Shy but Powerful Girl (Her attitude doesn't reflect her stats)
Abukuma: Delicate but Noisy Girl (Cheat Code of KC)
Sendai: Night Battle Ninja
Jintsuu: Indomitable Samurai
Agano: Sparkling Girl who dazzles when in need
Noshiro: Strict Girl and Almost fits to be a bear (Kanji things)
Yuubari: Techno Geek and Anime Lover Girl
Ooyodo: Quest Girl who loves to Command
Katori: The Strict Teacher
Kashima: The Attractive Teacher
Heavy Cruiser/Aviation Cruiser
Edit
Furutaka: Searchlight Girl
Kako: Laid-Back Girl (who possess dangerous Chidori techniques)
Kinugasa: The Absolute Hammer (Same like Satsuki, A beast in my team)
Myoukou: Game Changer Onee San (Knows how many times her Torp Cut in indeed saves many vets ass in recent event?)
Nachi: No-Nonsense Girl (War Tactical is her forte, don't talk to her about other topics)
Ashigara: The Hungry Wolf
Haguro: The Dangerous Cry Baby (Same like Natori, her attitude doesn't reflect the stats)
Takao: A Good Backup Onee San (Good stats without Kai Ni) and The Refined Middle Age Lady
Atago: The Busty DJ (Panpakapakapakapakapan!)
Maya: Air-Traffic Controller Girl(who is also a tomboy)
Choukai: The Calculative Girl and also A Silent Killer 
Mikuma: Special-or-not Girl (LSC Ships? Why?)
Suzuya: The girl who tend to be sexual.
Kumano: The Dolphin Hime Sama
Tone: Retro-but-Immatured Onee San
Chikuma: Dependable Imouto
Prinz Eugen: The Cute Foreigner
Zara: The Fashionable Girl (That name and indeed she is stylish)

Pola: The Drunkard 3.0 + Lifeless Girl
Fast Battleship/Battleship/Aviation Battleship
Edit
Kongou: English-Born Returnee and The Respectable Icon (She is the oldest ship btw)
Hiei: The Deadly Cooker, My Wife! and Hero of the Fleet
Haruna: The Angel of the Fleet
Kirishima: The Microphone-Obsessive Girl
Italia: The Spaghetti Girl who has a Great Vision (Her very long range)
Nagato: Big 7 and The most spectacular Vessel of IJN (The Great Flagship)
Mutsu: Big 7 and Explosive Girl (Literally, yup)
Fusou: Unlucky but Powerful Girl
Yamashiro: Unlucky 2.0 and Ultimate siscon ship
Ise: Katana Master (Refer to Fubuki Ganbarimasu for details)
Hyuuga: Seaplane Bomber Master (She always needs Zuiun)
Iowa: An American Girl who is bad in English
Warspite: Mighty Queen from Brittania (Rule Brittania!!)
Aircraft Carrier/Light Aircraft Carrier
Edit
Akagi: The Bauxite Queen and The Pride of 1st Carrier Division
Kaga: The Stoic Girl and Air Superiority Queen
Souryuu: The Dive Bombing Dragon
Hiryuu: The Torpedo Bombing Dragon
Shoukaku: The Unlucky Crane but can destroy the enemy easily (Highest FP of CV)
Zuikaku: The Lucky Crane and Untouchables (Her evasion is godly!)
Unryuu: The Hermit (Fubuki Ganbarimasu reference)
Katsuragi: Inexperienced Girl but performs well when in need
Saratoga: Graceful Marilyn Monroe Reincarnation
Houshou : Mother of Carriers
Ryuujou : The Flattop Dragon 
Shouhou: The Unexpected Yamato Nadeshiko
Zuihou: The Expert Chef in Egg-based Cooking
Hiyou: The Elegant Lady (Akatsuki, take note)
Chitose: The Drunkard 2.0
Chiyoda: The Tsundere Siscon
Ryuuhou: The Graceful Phoenix
Submarine/Auxillary
Edit
I-8: The Nerd who loves to speak Germans
I-19: The Dirty Jokes Girl
I-168: The Up-to-date Girl and The Sniper of the sea
Maruyu: The Fragile Girl but try her best when being called
Akitsumaru: The Most Relax Girl but perform well when sortie
Akitsushima: The Fragile Girl 2.0 but has a good sight (High LOS plane that she gives)
Akashi: The Amazing Mechanics
Hayasui: The Supplier when the trouble comes
Taigei: Submarine Mother
Commandante Teste: Vigilante French Girl
Community content is available under
CC-BY-SA
unless otherwise noted.