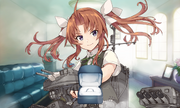 I take things slowly. No resource or level grinding.
Account details
Edit
Start date: 5th April 2015
My First Kanmusu: Samidare
First Crafted Kanmusu: Satsuki
First Dropped Kanmusu: Shigure (world 1-1 A)
First non-Destroyer: Yuubari (my 19th kanmusu, also first light cruiser)
First Heavy Cruiser: Myoukou (my 35th kanmusu)
First Seaplane Tender: Chitose (my 51st kanmusu)
First Light Aircraft Carrier: Shouhou (my 63rd kanmusu)
First Standard Aircraft Carrier: Akagi (my 64th kanmusu)
First Battleship: Ise (my 77th kanmusu)
First Submarine: I-58 (my 81st kanmusu)
First Fleet Oiler: Hayasui (my 114th kanmusu)
First Armoured Aircraft Carrier: Taihou (my 132nd kanmusu)
First Training Cruiser: Kashima (my 133rd kanmusu)
First Submarine Tender: Taigei (my 139th kanmusu)
First Repair Ship: Akashi (my 148th kanmusu)
First Amphibious Assault Ship: Akitsu Maru (my 172nd kanmusu)
First Destroyer Escort: Kunashiri (my 178th kanmusu)
First Five Kais in order: Sendai - Kitakami - Samidare - Maya - Isuzu
First Ten Kanmusu to level 50: Sendai - Maya - Kitakami - Isuzu - Kagerou - Haruna - Yuudachi - Hiyou - Yamashiro - Akagi
First Twenty Kai-Ni in order: Sendai - Kitakami - Isuzu - Yuudachi - Maya - Shigure - Ooi - Ryuujou - Tone - Jintsuu - Kawakaze - Souryuu - Choukai - Chikuma - Haguro - Chiyoda - Asashio - Satsuki - Zuikaku - Suzuya
First Thirty Kanmusu to level 75: Maya - Sendai - Kagerou - Shiranui - Suzuya - Ryuujou - Shigure - Kawakaze - Kuroshio - Tone - Kitakami - Souryuu - Jintsuu - Kaga - Isuzu - Ooi - Yuudachi - Zuikaku - Yura - Satsuki - Chikuma - Haruna - Nagato - Hatsuzuki - Hiryuu - Haguro - Choukai - Nagara - Hagikaze - Samidare
First Forty Kanmusu to level 90: Sendai - Kagerou - Shiranui - Ryuujou - Kitakami - Maya - Kawakaze - Tone - Kuroshio - Kaga - Jintsuu - Souryuu - Zuikaku - Shigure
First (?) Kanmusu married: Shiranui - Kagerou
Permanent fleet size at present: 209 (the first kanmusu of each and every type joins my fleet permanently)
Current front line: 4-2 (phase 2)
First completions: 2-3 on 2015/04/25; 2-4 on 2015/05/11; 3-1 on 2015/05/29; 3-2 on 2015/07/19; 4-1 on 2015/07/24; 2-5 on 2015/07/24; 3-3 on 2015/10/02; 1-6 on 2015/10/10; 3-4 on 2015/10/17; 3-5 on 2015/12/28; 4-2 on 2016/01/01; 4-3 on 2016/03/12; 4-4 on 2016/04/01; 4-4 fully complete on 2016/04/24; 3-5 final on 2016/04/26; 5-1 on 2016/05/31; 5-2 first clear 2017/12/23; 5-2 full clear on 2018/05/16.
Base structure details
Edit
The social and communal parts of the base are divided into four sections, in the form of three circles which are centred around the admin HQ and centre of operations.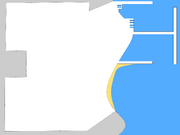 All kanmusu have access to the circles further out than the one they are a member of. All kanmusu can access the admin HQ ONLY with the express permission of either the TTK or whoever is on duty at the time if the TTK is not present. Kanmusu who are not a part of any circle may only access the admin HQ when expressly ordered by the TTK to attend.
Kanmusu who are in the Inner Circle ONLY can invite kanmusu from the middle circle to enter the inner one for up to 12 hours at a time, or invite kanmusu from the outer circle to enter the middle one for up to 3 hours at a time. The admin HQ has to be notified upon their arrival and departure and this can only be done at most once per Inner Circle kanmusu per week.
The amount of say over the decisions of the fleet that a kanmusu has is also determined by their circle access. Inner Circle kanmusu are allowed to participate in discussion and debate about certain operational or structural decisions. All Kanmusu who are a part of a circle are allowed to vote on the proposals decided, with vote share distributed as follows:
TTK - 35%
Inner Circle - 35% distributed evenly among members*
Middle Circle - 20% distributed evenly among members*
Outer Circle - 10% distributed evenly among members*
Those with no circle access do not get a vote
Note: If between 50 and 100% of any group participates, the share is fully distributed among those kanmusu who do vote. If less than 50% participate then the amount of vote for each kanmusu is (vote share for that circle)*2/(number of kanmusu in the circle). So if there are 14 members of the inner circle and 10 vote, then they each have 3.5% of the vote. If 5 vote, however, they each have 5%, bringing the total for the circle to just 20%. If "yes" has a higher % figure than "no" then the motion is considered passed.
The access rank of each kanmusu is determined at irregular intervals of at least one week. No kanmusu can go up or down more than one rank every two times the ranks are changed. All new kanmusu are not in a circle, but joining the fleet does not count as going up in rank.
Latest rank change date: 10th September 2018:
New Kanmusu (No Circle) - Hiburi, Daitou, Gambier Bay, Intrepid, Uranami, Samuel B. Roberts, Fukae
Moving down from Inner Circle - Maya
Moving up to Outer Circle - I-19, Iowa, Nenohi, Commandant Teste, Akitsu Maru, Kamoi
Moving down from Outer Circle - none
Inner Circle
Edit
(10% of kanmusu rounded UP = 21 at present)

DD: Akigumo, Asashio, Hagikaze, Kagerou, Kawakaze, Kazagumo, Kiyoshimo, Kuroshio, Maikaze, Nagatsuki, Nowaki, Oyashio, Samidare, Satsuki, Shiranui, Umikaze, Urakaze, Wakaba, Yayoi
CL: Yahagi
SS: I-168
Middle Circle
Edit
(30% of kanmusu rounded UP = 61 at present)

DD: Akatsuki, Akebono, Amatsukaze, Arashi, Asagumo, Hamakaze, Hatsuharu, Hatsukaze, Hatsushimo, Hatsuyuki, Hatsuzuki, Hibiki, Ikazuchi, Inazuma, Isokaze, Kasumi, Kikuzuki, Michishio, Minazuki, Murasame, Shigure, Shiratsuyu, Suzukaze, Tanikaze, Teruzuki, Tokitsukaze, Ushio, Yamagumo, Yamakaze, Yukikaze, Yuudachi, Z3
CL: Isuzu, Jintsuu, Kiso, Nagara, Sendai, Yura, Yuubari
CA/V: Aoba, Furutaka, Haguro, Kako, Kinugasa, Kumano, Maya, Tone
CV/CVL: Chiyoda, Hiryuu, Kaga, Ryuujou, Saratoga, Souryuu, Taihou, Zuikaku
Other: Akitsushima, Hayasui
Outer Circle
Edit
(50% of kanmusu rounded UP - should be 102 but actually 101 due movement restrictions)

DD: Arare, Arashio, Asakaze, Asashimo, Ayanami, Fubuki, Fujinami, Fumizuki, Harukaze, Harusame, Hayashimo, Isonami, Kamikaze, Kisaragi, Libeccio, Makigumo, Matsukaze, Mikazuki, Miyuki, Mochizuki, Murakumo, Mutsuki, Naganami, Nenohi, Oboro, Okinami, Ooshio, Sazanami, Shikinami, Shimakaze, Shirayuki, Takanami, Uzuki, Yuugumo, Z1
CL/CLT: Abukuma Agano Kinu Kitakami Kuma Naka Natori Noshiro Ooi Ooyodo Sakawa Tama Tatsuta Tenryuu

CA/V: Ashigara Atago Chikuma Choukai Mikuma Mogami Myoukou Nachi Pola Suzuya Takao Zara
CV/CVL: Akagi Amagi Chitose Hiyou Houshou Junyou Katsuragi Shouhou Shoukaku Taiyou Zuihou
BB/BBV: Bismarck Fusou Gangut Haruna Hiei Hyuuga Iowa Ise Kirishima Kongou Musashi Mutsu Warspite Yamashiro
Subs: I-8 I-13 I-14 I-19 I-58 Maruyu
Other: Akashi Akitsu Maru Commandant Teste Kamoi Kashima Kunashiri Mizuho Shimushu Taigei
No Circle Access
Edit
Katori Sagiri Hatakaze Amagiri Richelieu Ark Royal Etorofu Roma Matsuwa Luigi Torelli Tsushima Sado I-400 Hiburi Daitou Gambier Bay Intrepid Uranami Samuel B. Roberts Fukae
Any kanmusu that have joined the fleet since the last update
Times to buy DMM points
Edit
5000 points each time
Highest level kanmusu
Edit
level 50
level 75 (18th October 2015)
level 90 (gained 7th December 2015, pts bought 21st December)
level 120 (gained 3rd June 2018)
level 150
level 175
Fleet size
Edit
150 different kanmusu (gained 17th March 2016, pts bought 24th November)
250 different kanmusu (not currently possible)
Total level
Edit
5000 total kanmusu level (gained 19th May 2016, pts bought 2nd October 2017)
7500 total kanmusu level (gained 24th December 2017)
10000 total kanmusu level
15000 total kanmusu level
25000 total kanmusu level
35000 total kanmusu level
50000 total kanmusu level (not currently possible)
Reinforcement expansions
Edit
50 used
100 used
200 used
Marriages
Edit
10 married kanmusu
20 married kanmusu
40 married kanmusu
80 married kanmusu (if you get enough!)
Community content is available under
CC-BY-SA
unless otherwise noted.