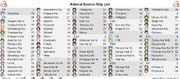 Hello I'm Kestuio, feel free to call me Kes. I'm also known as Kougetsu or CrimsonZero by some others. 
I've been a Teitoku since March 2018, and as of August 15, 2018 I am a HQ lvl 87 TTK with 79 shipgirls in my fleet, 18 of which are Kai Ni.
My server is Palau Anchorage, so if any of you are here with me, feel free to team up with me when Friend Fleets finally arrive in-game :)
Zuikaku acquired : N/A
Zuikaku Kai Ni [ A ] : N/A
Zuikaku married : N/A
I'd marry Haruna along with Zuizui, but I'm too broke for rings TwT
Languages : English, Chinese, Japanese, French, Thai. 
My Shipfus ( ͡° ͜ʖ ͡°)
Edit
Community content is available under
CC-BY-SA
unless otherwise noted.