Level 106 TTK (Into more salt this time)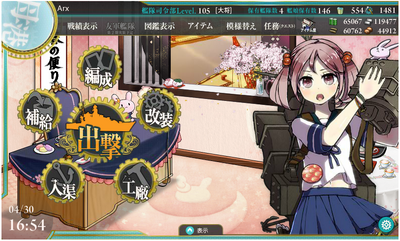 Starter:

(Because I love her blue hair and the eyes that speaks to me)
(The first girl I will give my ring)
Other Plans: Getting more space (200 slots to be exact), extra docks, Marrying others (the Harem)
About TTK:Edit
I am just an ordinary Teitoku from a certain archipelago in the southeast region of Asia.
They said that this archipelago has more than 7000 islands during low tide and Has less than 7000 islands during high tide.
I do weeklies and monthlies now thanks to screw shortage.

- Get


- Get

- Get


- Get

- Get


- Get


- Pending


- Pending


- Get


- Pending


- Get


- Get


- Get


- Get
Favorite ships:
Edit

Short term goal: To be event ready
Medium term goal: reach 70K Resources. Chikuma K2.
Long term goals: all DD Kai nis, All CA kai Nis, Bismarck and Yamato, Sakawa. Hard difficulty clear.
Last words:
Edit
- Arashi and Oyashio for the next event.
Plays Kancolle at the start of February 2015 because of Anime.
- The anime sucks, The game was better.
- Will rewatch Anime for lulz.
Kancolle is somehow borderline yuri.
But more likely, many of the ships are sis-cons or well, loves the Admiral too much.
Ship girls are somewhat a mysterious characters for they embodied a soul and imbued a mechanized body. But they had feelings and aspirations. They get angry, frustrated, happy, sad, disappointed, etc. and they are made for war yet also human.
While the timeline is somewhat vague and the opponents are somewhat vague, It feels that we TTKs negative emotions and the ship girls who sunk with regrets are being reborn as Abyssals. And adding to that, the continuous cycle of love and hate bears fruit and thus gives birth to a savior or a monstrosity.
While the TTK has a secretary ship, what actions does a TTK does to his Secretary? Was he asking for something? Was he being a guide? or Was he being a pure pervert? Indeed we can think of many things but since they had limited lines all we can do is assume everything else.
Kancolle is starting from the east... Now we got German ships and Italian ones, when will the allies come to the base? Or we'll wait for the possibility that Adobe will retire first before everyone was sent out?
Am I just a talkative guy or just pure noisy... It's up to you.
EVENT STATUS:Edit
Winter 2015 Event

E-1 and E-2 Clear (Easy)

Notable drops: Noshiro and Ooyodo in E-2

Spring 2015 Event

E-1 to E-6 Clear (Easy)

Notable Drops: Nagato, Mutsu, Agano, I-19,Ooi(I never had built one or got one in construction and sorties) and Roma(E-7)[good run indeed]

Summer 2015 Event

E-1 to E-6 Clear (E-1 Medium and E-2 to E-6 Easy)

Notable drops: Hamakaze, Tanikaze

lessons learned (never force clearing a map) and AACI is god sent rule (use it to reduce enemy bombers and hope they don't do the shelling Phase)
Autumn 2015 Event

E-1 to E-5 Clear (E-1 and E-2 Medium and E-3 to E-5 Easy)

Notable drops: Kazagumo (E-1), Nowaki (E-2), U-511 and Tokitsukaze (E-4)

Lessons learned: learn to level auxiliaries and one must have Akitsumaru. She is a commodity now.

Winter 2016 Event

E - 1 to E- 3 Clear (E-1 Hard for the Freedom gun and E-2 to E-3 Easy)

Notable Drops: Harusame x2, Amagi, Kiyoshimo x10, Uzuki x2, Urakaze x2, Tanikaze, Asashimo x2, Isokaze, Yahagi, Maruyu, Ooyodo x4, Okinami x2

Lessons Learned: farm in medium for better salt and chances.
Spring 2016 Event

E - 1 to E - 7 Clear (E-1 to E-3 Medium , E4 to E7 Easy)

Notable Drops: Amatsukaze x4, I-401 x2, Kiyoshimo x2, Akizuki, Teruzuki, Mizuho, Maruyu x3

Special announcement: Hagikaze has gone mad for not seeing Arashi.

Summer 2016 Event

K2 Badge for keks
Community content is available under
CC-BY-SA
unless otherwise noted.