Underway Replenishment

Supplies

Refittable Class
Coastal Defense Ship
Destroyer
Light Cruiser
Torpedo Cruiser
Heavy Cruiser
Training Cruiser
Aviation Cruiser
Fast Battleship
Battleship
Aviation Battleship
Light Carrier
Standard Aircraft Carrier
Armored Carrier
Seaplane Tender
Submarine
Aircraft Carrying Submarine
Submarine Tender
Fleet Oiler
Repair Ship
Amphibious Assault Ship
Introduction
戦闘航海中の洋上で燃料弾薬を補給することが可能です。これを保持した状態で燃料弾薬が欠乏すると戦闘航海中に「洋上補給」が発動し、燃料弾薬が洋上で「補給」されます。長期戦となる艦隊決戦のサポートにご活用ください。
(発動すると消滅します)
This item can resupply fuel and ammunition at sea during combat. With this equipped during sorties when fuel and ammunition have become used up, the "Underway Replenishment" will occur and resources will be resupplied on the spot. Please use it to support the long sorties of the decisive battle.
(will disappear once activated and used)
Notes
Unbuildable
Category Equipment that consume Underway Replenishment during improvement not found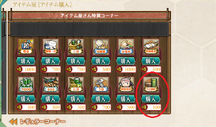 Single-use consumable item.
Can be purchased off the cash shop with 300 DMM points for 2.
Stock equipment of Hayasui and Hayasui Kai, can be equipped on Hayasui and Kamoi (in AO mode) in both their standard equipment slots and expansion slot.
Allows one to resupply the fleet's fuel and ammo during a sortie before entering the boss node (fuel and ammo are known to affect evasion and damage, respectively). Before entering the boss node you will be asked if the item(s) should be used (許可 or 却下, choosing 許可 will consume the item(s)).
For a normal/single fleet, it replenishes 25% (rounded down) of fuel and ammo of all ships, 50% when two items are used. For a combined fleet, it replenishes 15% of fuel and ammo of all ships (both main and escort fleets), 30% for two items.
The fuel and ammo used to resupply the ships will be detracted from the player's stockpile. Partial replenishment can occur when not having enough fuel/ammo, and with 0 fuel/ammo the choice for replenishment won't appear. Married ships won't receive the usual 15% reduction for fuel/ammo consumption.
This item can always be activated, regardless of the fleet position, morale, or health of the holder. The only exception is when she is retreated using the Fleet Command Facility
; in these cases, you cannot activate the item.
See also