Type 98 Reconnaissance Seaplane (Night Recon)

Refittable Class
Coastal Defense Ship
Destroyer

Light Cruiser

Torpedo Cruiser
Heavy Cruiser
Training Cruiser
Aviation Cruiser
Fast Battleship
Battleship
Aviation Battleship
Light Carrier
Standard Aircraft Carrier
Armored Carrier
Seaplane Tender
Submarine
Aircraft Carrying Submarine
Submarine Tender
Fleet Oiler
Repair Ship

Amphibious Assault Ship
Introduction
水雷戦隊旗艦用に開発された水上夜間偵察機です。
長時間の滞空性能を持つ黒く塗装された機体に、夜間索敵能力に優れた搭乗員が乗りこみます(条件が整えば夜戦を支援する「夜間触接」が発生する可能性があります)。
This night recon seaplane was developed for use on DesRon flagships.
The airframe is painted black, has an excellent loiter time, and includes within the crew a skilled spotter trained in night operations. (It can also spot for allied ships during nighttime reconnaissance.)
Notes
Unbuildable
Category Equipment that consume Type 98 Reconnaissance Seaplane (Night Recon) during improvement not found
Can provide the following effects when a ship equipped with this enters a night battle:
Provides an accuracy bonus of around 10%[NR 1]
Increases critical hit rate[NR 3]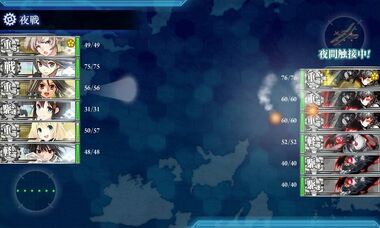 Note that these effects are applied only if the scouting phase during a night battle is successful.
This only has a chance to trigger when:
The Night Recon is equipped on a ship in your fleet that participates in the night battle.

Equipping on a 0 plane slot will not work. However, in case of multiple night recons, having a Night Recon in a 0 plane slot will not affect your Night Contact Rate if you have another one in a slot that is not 0.

The battle starts at night.
The battle starts at day (non-PvP), and either air denial, superiority or supremacy was obtained.
The battle is PvP, and air denial or above was obtained.
If all the requirements are met, the activation chance is[NR 4]

The full scouting phase animation will not be displayed during a night battle; instead, the night recon plane's animation will appear in the enemy fleet's radar only if the scouting phase was successful (as seen in this picture, top right).
Can also be used to trigger artillery spotting during day battles but is a less effective daytime spotter than standard recon seaplanes.
The formula listed only accounts for ship level for calculating activation chance, and thus Night Recon improvements do not increase chance of activation.
Note: Keep in mind that the night recon can still activate, even if the ship equipped with it has retreated. It is unknown whether this is intended or a developer's oversight which they didn't bother to fix.
Improvement
Lua error in package.lua at line 80: module 'Module:Collection/EnemyShips' not found.
See also
References