A collection of questions that are frequently/hypothetically asked. This page is still being expanded.
Notice
Please click on the corresponding blue boxes for any questions that matches to your inquiry to reveal the information that is hidden underneath it. For more (technical) information, please refer
here
.
Also known as Newcomers / Beginners


Why do I keep getting sent to the wrong place?
Different nodes on different maps will have different requirements. Some of the nodes are random in nature while the rest are dependent on your fleet composition.
3-3: Two CVs are needed in order to be sent to the 'right path'.
4-4: Two DDs and one CA(V) is needed to guarantee a pre-boss fight.
5-2: Two CV and one CVL is needed to guarantee a boss fight.
5-3: The fleet must not contain any slow-moving ships to avoid the dangerous submarine node. Fleets with 3 or more BBs will always be sent away from the boss node. Fleets with 2 DDs are sent very frequently from the preboss node to the boss node.
Weird animation: An 'arc' appears in front of my flagship and another ship of mine got damaged instead, what happened?
Flagship protection. Ships that have taken less than light damage (小破) will occasionally protect the flagship from getting damaged.The cause is not known but some formations boost the probability of its occurrence more than the others. Ring-shaped / Diamond shaped formation will raise the probability of its occurrence more than the line ahead formation.
What ships are 'counters' against other ships e.g. destroyers against subs?
Generally, Battleships and regular carriers are the queens of the battlefield except when it comes to submarines. Heavy Cruisers are the jack of all trades while light cruisers and destroyers, with their depth charges, are the only ships effective against submarines.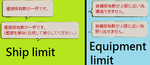 You have reached the maximum limit of ships in your dock (default: 100 ships). Consider scrapping or using them for modernization before heading out. You will not be able to obtain new ships if you reach the limit. If you wish to expand your docks so you can collect more ships, you have to buy it from the cash shop. Each limit expansion costs 1000 yen, and increases the maximum ship limit by 10 in addition to the maximum equipment limit by 40 (default equipment limit is 497); Refer to this pastebin for more information on hating your money.
What happens if I get disconnected from the game during a battle?
The game will calculate the battle results and your fleet will automatically return to base.
I notice some players are leveling multiples of the same ship, why?
Some ships have rare or useful equipment that can be worth farming Some examples:
Those enemy BB Ru-Class battleships are kicking my ass on the end of 2-4! How are you supposed to beat that flagship type?
Lots and lots of luck. Jokes aside, they are the first enemy you meet which not only can take a beating but can dish out a beating too. You will not only need to have remodeled your ship maidens, you will also need to cap their modernization and ensure all of your equips are of a good quality. While getting to the 2-4 boss can require some luck, you will notice these BBs will start showing up in other maps and you can easily end up against two flagships with two elite partners, which can hurt quite a bit. Just hope that your Ship Girls target them first and take them out of the fight ASAP.
On the contrary, if you have 3 level-20-plus submarines, 2-4 is no longer a nightmare. You just need try a couple of times and you will pass easily. But you also need to fully cap their modernization especially torpedo

and armor
.
What is this weird warning screen showing my flagship after the battle? Why did I get sent back to the base?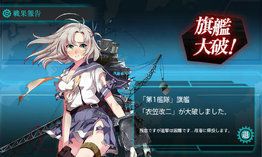 If your fleet's flagship gets heavily damaged (大破) during a battle, you'll be forced to retreat unless she is equipped with a Repair Team or Repair Goddess and you choose to consume it.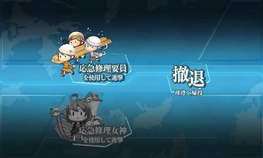 Also known as: Naval Exercise/Practice Battle/PvP
Again, these battles reset twice a day at 03:00 and 15:00 JST.

How come the other admirals have significantly higher-leveled ships?
Naval exercises yield low admiral exp (20 exp) but high ship exp (up to 1k exp, maybe more). Compound that everyday and the exp gap would grow higher and higher. Overall, it doesn't really matter for you; the right preparations can help you win exercises against much higher-leveled ships. See Exercises (PvP) for details.
The other admiral uses a fleet of low-level ships, why would he do that?
Some admirals use low-level ships to complete repeatable missions at low expense.
It's easier to get the Sparkle buff. See sparkle effect for more details.
To help other admirals (and hopefully you as well), please make sure your main fleet consists only of 2 high level ships (more exp to them) when you will be offline for a while.
How do I get an S rank against a submarine fleet?
Anti-submarine damage highly depends on equipment ASW stat. Equip your CL and DD with Sonar and Depth Charge while using line abreast formation.
What does each stat mean?
Generally if the stat is 0, it means the ship can't do anything pertaining to that and there's no way you can increase it.
Hidden stats
爆装 (Bakusō, Dive bombing stat) - Initial value is 0 for all ships, increased when dive bombers/seaplane bombers are equipped. Used in aerial phase and shelling phase. Highly influencing the damage of CV/CVL in shelling phase.
命中 (Meichū, Hit rate) - Accuracy. Affects the chance of hitting an enemy. Can only be increased through levelling or equipments.
クリティカル (Kuritikaru, Critical) - Unlike other games, critical hit in this game is equals to "piercing the armor" of an enemy. An attack will always be shown as "Critical Hit" if a certain amount of damage is dealt. [Critical Modifier]
What do the stars underneath the ship level mean?
How close they are to their max stats.
If I can raise stats with modernization, what's the point of leveling up?
Firepower , Torpedo attack , Anti Air and Armor stats can be increased using Modernization.
Anti Submarine , View Range and Evasion stats will only improve from leveling ships up, though repair times also increase.
The hidden accuracy stat changes with level as well.
Is it worth to turn Fusou, Mogami, etc into aviation battleships/cruisers?
Worth it.
For Aviation battleships (BBV), their max firepower stat drops a little, but all other stats increase. Their Aviation BB-form are still eligible for the quest completion.
For Aviation cruisers (CAV), they don't lose max firepower after their remodels unlike BBV. They will, however, start with very low firepower stats after their remodels. Their max firepower are of an average heavy cruisers'.
Does the slot position of the equipment matter?
In day battle, the equipment slot position doesn't matter for all non-aircraft carrier warships. In night battle, the top-most weapon is used to attack if your ship fails to trigger a special attack (Double Attack or Cut-in Attack, check the combat mechanics page for more info), this can change what type of attack your warship performs between a torpedo attack or a main gun attack, but the damage caused will still be the same torpedo attack or main gun attack, it's only a matter of animations.
However, it's a different case for warships that can equip aircraft (fighters, recon planes, seaplanes, etc.), because each slot has a different aircraft-carrying capacity (see below). Keep that in mind when equipping planes.
Is there any equipment that will do preemptive strikes?
Torpedoes and bombers can attack before the shelling phase. Ships or submarines equipped with midget submarine Type A Ko-hyoteki (

甲標的 甲) are able to launch an opening torpedo attack. Submarines level 10 or higher can do an opening torpedo attack regardless of their equipment. The accuracy of torpedoes greatly depends on morale and fleet formation; using line abreast will cause midget submarines to nearly always miss, while line ahead gives the greatest accuracy.
What do green and yellow guns do? Also, I really hate fighting carriers, which guns help me shoot planes?
All equipment with +AA will help shoot down planes, but some types get larger bonuses.
High-angle guns, AA RADARs, Machine guns/rocket launchers, Anti-air fire directors and Green ammo (Type 3 Shell) have extra fleet-wide bonuses to shooting down planes.
For those wondering about yellow guns: They're for increasing accuracy against secondary targets, but for the purposes of the game, this just means they're more accurate. Historically, they were meant to fire faster and track fast ships more quickly, hence the accuracy boost. By the way, don't ever use 15.2cm yellow guns, they were bad historically and they're bad in this game too. The 15.5cm yellow guns are great. The OTO 152mm yellow guns (Italian), for those that have them, are good as well.
What is the function of the green ammo?
Sanshiki, San-Shiki or sanshikidan (lit. "type 3") ammunition is a combined shrapnel and incendiary round for anti-aircraft use, used by the Imperial Japanese Navy. The shell was historically designed for several gun calibers such as

41cm Twin Cannon,

20.3cm Twin Cannon, and
12.7cm High-Angle Twin Cannon.
In essence, it enables your non-AA guns to effectively shoot down planes. For the purpose of the game, sanshiki will allow you to cause more damage (2.5x) to land-based bosses, so when you are going to fight with land-based bosses, be sure to equip your ship with sanshiki.
What do the planes with the different-colored icons do?
| | |
| --- | --- |
| | Aircraft with blue icons are torpedo bombers. Blue planes can deal very high damage in the opening carrier attack phase, and raise damage in the shelling phase. |
| | Aircraft with red icons are dive bombers. Red planes also attack in the opening phase but their damage is fairly low. They give carriers higher damage in the shelling phase. |
| | Aircraft with green icons are fighters for air superiority. They greatly aid in shooting down enemy planes. |
| | Aircraft with yellow icons are used for the recon phase and can help increase damage in the opening carrier attack phase. |
| | Light green planes with no icon at all are seaplanes, the 零式水上偵察機 Zero Recon is for scouting only, and the 瑞雲 Zuiun scouts can participate in aerial combat. Both allow for Artillery Spotting. Note that these are the only aircrafts that seaplane tenders, aviation battleships, aviation cruisers, and aircraft-carrying submarines can launch. There are also seaplane fighters which act like carrier-based fighters, but can be equipped to certain non-carrier classes. |
What's the difference between CV and CVL?
CV can hold more planes and a higher plane count means better performance in the initial air combat phase. You get higher firepower for your fleet as well, which translates to better damage in the shelling phase. Last but not least, CVs have higher defense and HP.
One thing CVs can't do is attack submarines whereas CVLs can. CVLs cost less to use than CVs too.
What does the number beside my plane stand for?
The capacity of the planes it can hold. Different slots have different capacity and will affect the performance of the carrier in the opening aerial combat phase. Generally, it is recommended to place torpedo bombers

on the higher count slots, and fighters

, dive bombers

or recons
on the lower slots.
Will I lose all my equipment if I remodel?
No. The game will automatically disarm your ship before she goes through her remodelling.
What should I equip on torpedo cruisers like Kitakami or Ooi?
Any gun, torpedo launcher or midget submarine will do, and that midget sub will enable them to shoot a torpedo before the shelling phase. Turbines are a good choice as well, if you want her to increase her survivability.
Recommendation fitting for Kitakami, Ooi and Kiso?
Consider that CLTs can't equip any amount of seaplanes, the fitting of CLTs should all be about opening torpedo and night battle.
Before Kai Ni, CLTs only have 2 equipment slots. They can't fire twice during night combat, so maximizing opening torpedo is the primary consideration.
Only after Kai Ni, will Kiso be a CLT.
Before Kai Ni ( Below level 50)
After Kai Ni ( Level 50, Kiso Level 65):
Fit 1: This fitting gives good opening torpedo damage, more firepower to deal with DD during day combat and double attack during night combat.
Fit 2: This fitting is extreme in opening torpedo and gives a chance to cut-in during night combat.
Help! my fleet failed to do an expedition!
There are at least two reasons for that, namely:
Incorrect fleet composition, or flagship level too low; see Conditions for more details.
Not resupplying your ship beforehand.
I don't have expedition #xx unlocked.
Don't skip clearing any previous expeditions (e.g. for expedition #18 you need to clear expedition 1 until 17). By clearing, it means completing the expedition for the first time.
Which expeditions are the most efficient?
Always have your fleet full of sparkle when going into long expedition, see sparkle effect.
Using ships with low fuel and ammo cost is another way to optimize the efficiency of your expedition.
Remodeled ship may have up to 27% increase in fuel/ammo usage. While it is not significant, please do take it into consideration when deciding your expedition fleet.
Are Kitakami and Ooi first and second remodels considered as CLs for expedition and map requirement purposes?
No, they're not. If you send them out on expeditions, it'll end up as a failure despite theoretically fitting the requirements stated on the Wiki. They are considered as CLT. This case is also applied for any other Aviation BB and Aviation Cruisers such as Ise, Hyuuga, Yamashiro, Fusou and Mogami.
Also known as Large Ship Construction (LSC). See also: Large Ship Construction on Construction page


How to Unlock Large Ship Construction
Complete the following:
ID
Requirements
Rewards
Note
G4

「大型艦建造」の準備!(その壱)


Preparation for Large Ship Construction (Part I)
Perform 4 successful modernizations
0 / 0 / 400 / 400
(None)
Requires: A14
Unlocks: F10
F10

「大型艦建造」の準備!(その弐)


Preparation for Large Ship Construction (Part II)
Scrap equipment 4 times
800 / 800 / 0 / 0
Unlocks Large Ship Construction
Do it one by one as the game will consider discarding multiplies at once, as one time.
Requires: G4
Note: To unlock the first quest you need the 3rd fleet unlocked