Exill7 wrote:
1. I am not an expert, I help as much as I am able to, for more information you can always ask more advanced players on the chat.
2. The most accurate statistic is luck, especially in destroyers (luckily = not to hit). I would focus on training Jervis and Tashkent, Yukikaze. With CL I would train Sendai (with no Abukuma) her night attack is very good. I would finish Tatsute with Kai Ni. Train both CLTs. Train 2 CA (Best-selling versions of Kai NI). Train 2 CAV (Kumano and Suzuya). Finish the training of ALL BBs (Especially Musashi, Yamato, Warspite) and ALL FBBs (Specifically RIchelieu, Bismarck, Haruna).
The most important thing in your CV is the amount of space you have and yours again. Train Hiryuu, Zuikaku, Interpid (above all), Graf (for the socks, at the end).
With CVL, train Zuihou to Kai NI, Chiyoda and Chitose (abundance).
AR train the other to Kai, take the equipment and dump.
I would like to improve the flashlight first (cheap and very helpful, each improvement reduces the probability of hitting our unit, increases the hit of the enemy) and Night Recon (increases the probability of occurrence / increased damage more often). Then I would concentrate on gaining better fighters, Reppu are good but there are too few of them (in other words, they're far from perfect).The best you will get from the tasks. Then it would be good to improve them too.
All this should give you the opportunity to easily pass events on easy and farm units in peace.
Well here is a replay with the set-up that got me S most consistantly.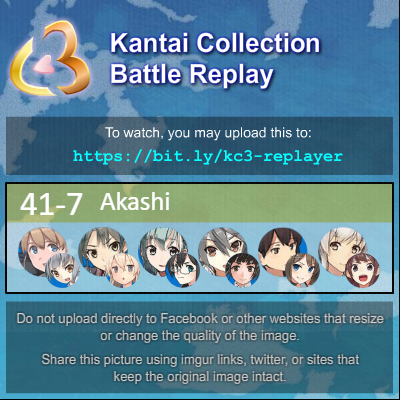 If you want more I can grab them.