I've decided to go for a fleet that only gets A-rank at the boss, with more chance to reach the boss and let Friend Fleet handle the whole A-rank thing.
I am not sure how to recommend a fleet myself as I'm still testing out mine. But here is mine. (Don't follow it please)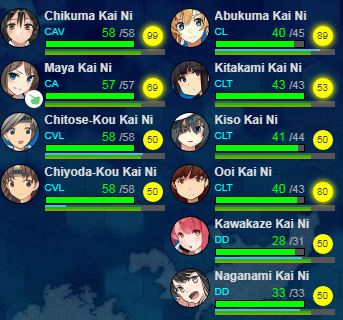 The key ideas are:
Make a fleet that is able to obtain A-rank

Hence, the CLTs, for opening torp.

Able to Sink the submarine at node D

It is between Toukai or OASW ship. Although normal ships can sink it too but loss all shelling.

Able to survive node M

That's where the AS comes in. Honestly, you can opt for AP too but it hurts more because you can't utilize Artillery spotting.

Able to survive node W.

This part I'm still playing around with. It hurts.

A-rank the boss

I did it under AP instead. No BB allows for no 2nd shelling, less damage from their main fleet.
The problem I can see for your fleet:
Kongou in escort doesn't do much. BB in escort only does 1 shelling. Kongou being there only does one single damage then have weak night battle.
Put all your torpedo bombers on your FIRST SLOT of your CVs. Bombers on first slots of a carrier receives double bonus and can reach up to 20% increased critical damage damage.

Dive Bombers are usually used AFTER you already use your Torpedo bomber. Ryuusei Kai can be used instead of Suisei to obtain a possible stronger opening air-strike (random between 0.8 and 1.5 modifiers) albeit weaker shelling (but you're using Shoukaku, she already has a goddamm high shelling damage due to her Firepower).
Putting your bombers on higher slots actually hurts more in this map because there is more shootdown from the enemy.

Your Suzuya ain't doing much

Like, really, you decided to bring 4 CVs but still use Suzuya as fighter mule while giving your CVs dive bombers.