Basic
Shimakaze

Shimakaze Class Destroyer

Statistics
HP

19 (21)

Firepower
12 (29)
Armor
8 (29)
Torpedo
45 (89)
Evasion
50 (

99

)
AA
14 (49)
Aircraft
0
ASW
24 (

49

)
Speed
Fast
LOS
7 (

19

)
Range
Short
Luck
10 (49)
Resource Consumption
Fuel
20
Ammo
25
Build Time
Slots
00:30:00 (Normal)
2
Stock Equipment
Space
12.7cm Twin Gun Mount
0
Type 22 Surface Radar
0
- Locked -
-
- Locked -
-

Extra Statistics

Modernization Bonus

Scrap Value

Improvement
Upgrade
Shimakaze Kai

Shimakaze Class Destroyer

Statistics
HP

36 (38)

Firepower
14 (59)
Armor
14 (59)
Torpedo
48 (99)
Evasion

55

(

99

)
AA
16 (59)
Aircraft
0
ASW

27

(

59

)
Speed
Fast
LOS

9

(

39

)
Range
Short
Luck
12 (59)
Resource Consumption
Fuel
20
Ammo
25
Remodel Level
Slots
Level 20
3
Stock Equipment
Space
Type 13 Air Radar
0
Type 93 Passive Sonar
0
25mm Triple Autocannon Mount
0
- Locked -
-

Extra Statistics

Remodel Cost

Modernization Bonus

Scrap Value

Improvement
Quotes
[
]
Event
Japanese
English
Note
Introduction

駆逐艦島風です。スピードなら誰にも負けません。速きこと、島風の如し、です!

I'm Destroyer Shimakaze. When it comes to speed I'm the best there is, swift like the island breeze!
Shimakaze = Island breeze
Library
艦隊型駆逐艦の最高峰を目指して開発された、高速で重雷装の駆逐艦、島風型よ。
40ノット以上の快速なんだから。
でも、量産には向かなくって、私一隻しか建造されなかったの。
I am Shimakaze, the Shimakaze-class ship that was developed as the pinnacle of destroyers, fast and armed with heavy torpedos.
After all, I can go faster than 40 knots.
However, I wasn't suited for mass production so I was the only one built.
Shimakaze reported to have achieved a top speed of 40.9 kn (75.7 km/h; 47.1 mph) during her sea trials.
Secretary 1

おぅっ!

Oh!
Secretary 2

なんですかぁ提督ぅ!

What is it, Admiral?
Kai

提督、おはようございまーっす!

Good Morning, Admiral!
Secretary 3

かけっこしたいんですか?負けませんよ?

Want to race? I won't lose.
Idle (Kai)

んぁ?・・・ん、今、連装砲ちゃんとお話したの。ふぅ・・・だって退屈なんだもん!

Hmm… Ah! I was talking with Rensouhou-chan… sigh…'cause I'm bored!
Shimakaze is referring her animated '12.7cm Twin Gun Mount' as 'Rensouhou-chan'
Secretary Married

えっ?提督、走り疲れたの?おっそーい!…でも、頑張ったね!

Eh? Admiral, you're tired from running? How slo~w!... But, you did your best!

Wedding

提督、私の走り見てくれた?ね、早いでしょ?早いでしょ?フフフン。

Admiral, did you watch me running? Heh, I'm fast, yeah? Yeah? *smug*

Looking At Scores

提督宛てに連絡がきてるみたいよ。

Seems like there are messages addressed to you, Admiral.
Joining A Fleet

島風、出撃しまーす!

Shimakaze, deploying!
Equipment 1

もっともっと速くなってもいいの?

Can I keep getting faster and faster?
Equipment 2

これ以上速くなっても知らないから!

Don't blame me if I get even faster!
Equipment 3

おっそーい!

So slow!
 ⇧ shared with expedition selection, resource collection, instant repair and development
Supply

もっともっと速くなってもいいの?

Can I keep getting faster and faster?
Same as Equipment (1)
Kai

補給おそーい!!

The resupply is slow !!
Docking Minor

タービン周りも整備したーい!

I want my engines serviced too!
Docking Major

連装砲ちゃんも修理してあげなきゃ。

Rensouhou-chan needs to be fixed, too.
Again, 'Rensouhou-chan' is referring to her '12.7cm Twin Gun Mount'
Docking Complete

修理が終わった船があるみたいよ。

Looks like a ship is completely repaired.
Kai

修理が終わったみたい。遅いってば!

So the repair is completed. Slow!
Construction

また私より遅い船が出来たみたい。

It looks like another ship slower than me has been constructed.
Returning From Sortie

艦隊がやっと帰投したよ。遅いよね?

The fleet finally came back. Slow, huh?
Starting A Sortie

連装砲ちゃん、一緒に行くよ。

Let's go, Rensouhou-chan.
Battle Start

私には誰も追いつけないよ!

There's nobody that can keep up with me, you know!
Attack

島風、砲雷撃戦入ります!

Shimakaze, engaging in shelling.
Kai

五連装酸素魚雷!いっちゃってぇー!

Quint Oxygen Torpedoes! Fire!
The real-life Shimakaze was equipped with three 61cm Quint (Oxygen) Torpedo Mount
 ⇧ shared with day/night special attacks, support expedition team arrival
Night Battle

だからー、島風からは、逃げられないって!

I told you there's no escape from Shimakaze!
Night Attack

えへへ、あなたって遅いのね!

Ehehe, you're too slow!
MVP

私が一番?やっぱり?そうよね!だって速いもん!

I'm the best? Really? I knew it! I'm fast, after all!
Minor Damage 1

ひゃっ!?

Augh!
Minor Damage 2

やーめーてーよー!

Stop it already!
Kai

あんまりあれだと過熱しちゃうよ…

Keep that up and things are gonna get heated...
Major Damage

はう…この私がやられるなんて…

Argh, for me to get hit...
Kai

あうぅっ! 痛いってばぁっ!

Augh! That really hurts!
Sunk

速いだけじゃ…だめなのね…

I guess only being fast isn't good enough...

Shimakaze's speed (40+ knots) proved insufficient against the 350+ knots attack aircraft could achieve.
Seasonal Quotes
[
]
Event
Japanese
English
Note
Rainy Season 2015


この季節は雨が多くて連装砲ちゃんたちが可哀想。早く夏になれー!早く早く!

There so much rain around this time of the year, I feel so bad for Rensouhou-chan and the gang. Summer come quick! Hurry it up!
Mid-Summer 2015


なつー!連装砲ちゃんと泳ぎに行こう。泳ぎ比べも負けませんよ!だって速いもん!

Summeeer! Let's go swimming with Rensouhou-chan. I won't lose even if we compete in swimming! After all, I'm fast!
End of Year 2015


大掃除とか面倒くさ~い。早くおせちとか食べた~い。早く早く、お、おう!

Cleaning sucks~. I want to eat New Year Food already. Hurry up! o, oh!
New Year 2016


明けましておめでとう!今年も島風が誰よりも速いから、見てて…おう!

Happy New Year! This year, Shimakaze's faster than anyone else, watch me...uu!
Valentines Day 2016


提督、島風のチョコあげるよー。誰よりも速く食べてね?ほら、速く速くー!

Admiral~ Shimakaze will give you some chocolate~ Make sure to eat it faster than the others. Come on, hurry up!
Third Anniversary 2016


まだ三周年なの?おっそーい!でもおめでとう。提督、お祝いに島風と駆けっこしよ。負けませんよ!

It's still third anniversary? Too slow! even then, congrats. Admiral, let's race as a celebration. I won't lose!
Rainy Season 2016


この季節は雨が多くて、連装砲ちゃんたちがかわいそう。早く夏になれ~、はやくはやく~!

There so much rain around this time of the year, I feel so bad for Rensouhou-chan and the gang. Summer come quick! Hurry it up!
From Rainy Season 2015
For new seasonal lines that may be missing here, check Seasonal
Character
[
]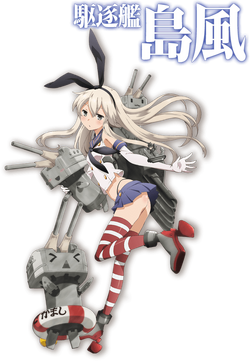 Appearance
[
]
Shimakaze wears a sleeveless serafuku with golden buttons that exposes her midriff and a very short skirt. Her black undergarments are seen on her hips, and wears red striped stockings with gray shoes with rudders acting as heels. She has long blonde hair held in place by a hairband that resembles a bunny's ears and has modest breasts. She is often accompanied by Rensouhou-chan, three gun turret familiars which originated from Shimakaze's three twin 12.7 cm/50 naval gun turrets. One of her Rensouhou-chan has a lifebuoy with "Zekamashi" scribbled onto it.
Personality
[
]
Shimakaze is hyperactive and excitable, but is also absent-minded. She prides herself as being the fastest in her fleet, and boasts about her speed very frequently.
Trivia
[
]
Her name means "island wind."

It was first carried by the fourth ship of the Minekaze class in 1920.
The Minekaze-class Shimakaze participated in WW2 under the name of Patrol Boat n°1.
Guided missile destroyer JS Shimakaze (DDG-172) exists in JMSDF today.

She was a unique ship with no sister ships.
Sunk by American aircraft from Task Force 38 in the Battle of Ormoc Bay near Cebu, Philippines, 11 November 1944.

Naganami, Hamanami and unimplemented destroyer Wakatsuki also sank in the same area where Shimakaze sunk.
Her wreck was finally discovered by RV Petrel in December 2017, after decades of lull under Ormoc Bay, in an underwater expedition sanctioned by the Philippine government. That same discovery also revealed Naganami and Hamanami too.

She was not actually the world's fastest destroyer at the time; that honor goes to the French Le Fantasque-class destroyers. Le Fantasque and her sisters had a top speed of 45 knots as opposed to Shimakaze's 40.9 knots. However if one considers offshore speed, Shimakaze would be the fastest destroyer at that time.

There are several other destroyers around the world that were faster than her; namely, the russian Tashkent and the italian Capitani Romani, which could reach 42.5kn and 43kn respectively.

Fans have given her the nickname "Zekamashi", her name "spelled" backwards as it would be on an old Japanese life preserver. This is because traditionally, Japanese was written in vertical columns from right to left. If you tried to write on something thin like a life preserver, there would only be space for one character per line, so you would end up writing backwards by modern, left-to-right standards.
With Amatsukaze, Akizuki, Teruzuki, Hatsuzuki and Suzutsuki she is one of 6 destroyers with "animated turrets".
Shimakaze was NOT the last destroyer build by Japan which participated in WWII : she was actually followed by the Matsu class, which were supposed to be "more cost efficient" (hence cheaper and weaker) and Matsu's subclass, the Tachibana class. Although many destroyers of those two classes hadn't time to participate in combat, some were engaged in battles and sunk.
She was not the first ship to carry the name "Shimakaze" in WWII. That honor goes to the IJN Shimakaze (1920), a Minekaze-class Destroyer built in 1920 and sunk on January 12, 1943. This Shimakaze actually saw more combat than the following ship that carried the name. IJN Shimakaze 1920
Historical Note
[
]
Shimakaze was planned and built as the experimental prototype of a new class of heavy destroyers, designated "Type C." Sixteen other units were ordered but later cancelled due to more pressing wartime needs. Though never repeated, she was a successful design, combining large size (around 25 feet longer than Yuugumo-class destroyers), firepower (six 5" guns in new Type D turrets), and heavy torpedo armament (three quintuple sets of 24" tubes, the most powerful such broadside ever mounted on a Japanese destroyer) with a 40-knot top speed. The latter was thanks to new high-pressure, high-temperature boilers able to generate nearly 80,000 shaft horsepower and would have propelled all future Japanese destroyer designs, had circumstances permitted their construction.
☑ Blur NSFW CG ☒ Blur NSFW CG
☑ Blur other damaged CG ☒ Blur other damaged CG
See Also
Template:Shimakaze Class