Notice
Application has been Closed as of 29th June 2018.You may refer to
this thread
for more info
First hinted as part of Kancolle Phase 2 transition and implemented in 23rd April 2018 update, admirals will be able to apply for a server transfer until early Summer 2018.
Application
Edit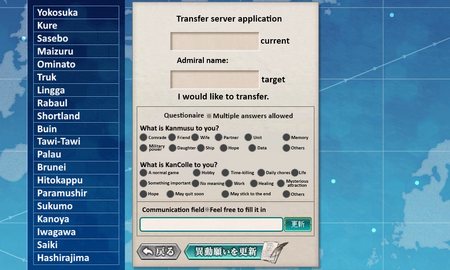 In order to apply for server transfer, you will need to do the following steps in order:[1]
In the main menu within the game, click on the button that says 【サーバ転属異動願い】. It is right in between HQ/player information and ship library.
Click on the button that says 「異動願い」記入 when presented the screen that has a lever on the right.
When presented with a questionnaire (a page with multiple choice, etc), refer to the image on the right for translation. Do note that the choices you choose in the questionnaire has no effect on the lottery process following the completion of all the players/admirals who wishes to transfer to another server.

Once you are content with your questionnaire, you will need to click on the button that says "異動願いを更新". Clicking on the button that says "戻る" simply means to go back to previous screen, thus discarding your questionnaire along with potentially your intentions for transfer. If the button "異動願いを更新" is either greyed out, it may mean one of the following:

You are ineligible to transfer to the selected server
You are ineligible for server transfer
There was an error with your request

If you have already completed the questionnaire and submitted your server transfer request. The next time you view the same questionnaire area, you will have the words "書類提出" appearing to the bottom right of the already filled questionnaire. This means that you can only view your already completed questionnaire.[2]

Upon completion of the questionnaire, you will be faced with the same area as step 2. Click on the lever so that it does not highlight the words "解除" or cancellation in red but "申請" or request. The words if successfully chosen will be in green and not red.

A YouTube video clip overviewing the server transfer feature may possibly be also used as a rough guide.
Music (BGM) featured upon entering into the area is/was: 「睦月型駆逐艦の戦い」 / Mutsuki-gata kuchikukan no tatakai / Battle of Mutsuki-Class Destroyers.
The BackGround
The list of Servers detailing their locations are not the actual location of the server itself. All the servers are located in Japan however the names were based on either factual or planned bases by Imperial Japanese Navy.

Therefore, any inquiries regarding to any of the KC server/s in which you are troubleshooting to should be noted that your connection to the game server is still destined to Japan and not elsewhere or to any specific location as mentioned.

The first server transfer (requiring interested parties to fill out their message in a specific format) happened around 22nd July 2016 beginning with Rabauru.[6]
Details about your own server can also be found:

For PC and non-Android users, on this page under first tab (Beginners), and the question titled, "What does the admiral stats page show?". N.B.: You will need to click on that question to reveal the answer.

It can also be found when you go into the Ranking page, under HQ/player information but under second tab on the left side within game.

For Android users, the very first screen when you run Kancolle there is a button below the "Game Start" button and that tells you in which server you belong.

Other than that, Android users can still follow the way as mentioned above (for PC and non-Android users) to find out which server they belong.

Some facts about the Kancolle server's role in Kancolle:

They host both the game as well as player's data. When you switch from one server to another, you only keep your own player data from your previous server but your PvP list for instance may be different.

There is one small exception to this rule and that is the "Gadget" server. It doesn't appear to host player data nor does it appear to host game data. As well, the said server does not appear on the server list.

Different servers have different ranking points required for one to appear on the ranking board that is to be published once every month during the ranking rewards distribution.

For such information you may wish to refer to this page for more information (on previous ranking reward cut-off points).

Knowing which server you belong to may be beneficial in a few ways:

When it comes to troubleshooting issues whilst playing the game. You can (for instance) ask other players that you know of who are also on the same server as you are to see if they are facing the same issue.

It is actually very handy if you (even a little) Japanese, as when it comes definitive server issues KanColle developers from time to time will tweet on their official twitter account and potentially mention the name of the server that is facing the issue(s).

If you frequently PvP and/or you check the top rankers on your server and that you see their names on your list, you can also confirm to see if they later on appear on top rankers list.

The list of top rankers per server (up to 500) are released as an image and hosted on the "Gadget" server. Even the past ranking list are also visible from the same server.

The same button for server transfer(s) used to be a button for interested applicants wishing to be part of the KanColle Android beta user.

You may wish to refer to this link and click on "[Expand]" (button to the right under that page) to reveal the information.
Before KanColle Android pre-release, the button was known as "Friend fleet" but that functionality was never implemented since 2013 till mid-late 2016 when Kancolle Android was pre-released.[10][11]

This has nothing to do with the Friend Fleet which was a feature in Winter 2018 Event and the Friend fleets were manned by Non Playing Character (NPC).
References
Edit
Further Reading
Edit
Community content is available under
CC-BY-SA
unless otherwise noted.