Reppuu Model 11

Strong Gale Model 11

Refittable Class
Coastal Defense Ship
Destroyer
Light Cruiser
Torpedo Cruiser
Heavy Cruiser
Training Cruiser
Aviation Cruiser
Fast Battleship
Battleship

Aviation Battleship

Light Carrier
Standard Aircraft Carrier
Armored Carrier
Seaplane Tender
Submarine
Aircraft Carrying Submarine
Submarine Tender
Fleet Oiler
Repair Ship

Amphibious Assault Ship
Introduction
名機「零戦」の後継機として開発された、最新鋭艦上戦闘機「烈風」。
その正式採用された量産機を装備した、新鋭の艦上戦闘機部隊です。試製烈風からエンジンを換装強化、機体も熟成し、武装も20mm機銃四門と充実。次世代の制空戦闘隊で、機動部隊の直掩や海域の制空権を!
?
Notes
Unbuildable
Category Ships with Reppuu Model 11 as stock equipment not found
Category Equipment that consume Reppuu Model 11 during improvement not found
Trivia
The Mitsubishi A7M3-J Reppuu Kai (Strong Gale, Modified) is a proposed interceptor variant of the Mitsubishi A7M2 Reppuu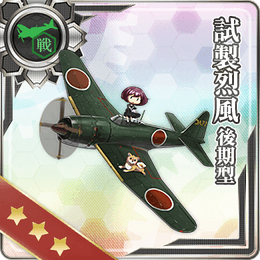 with an increased maximum speed of 648 km/h using a 2,200 hp forced-induction version of the Mitsubishi MK9 and an armament consisting of six 30 mm cannons. A working prototype was never produced, as the A7M2's design documents were lost in the bombing raids of March 1944.
See also
Community content is available under
CC-BY-SA
unless otherwise noted.