Introduction
Edit
The Reinforcement Expansion is a consumable item added in the August 10th 2015 update along with the Summer Event. It allows you to reinforce a ship to permanently add an additional utility equipment slot. For example, you can equip a reinforced ship with Damecons without compromising the equipment setup.
The reinforcement will remain after a remodel.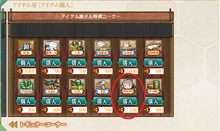 The Reinforcement Expansion item is available as event map rewards, some quest rewards, or through the Cash Shop for 500 DMM points.
Requirements
Edit
Your Kanmusu must be at least Level 30 to install the Reinforcement Expansion.
To use the Reinforcement Expansion: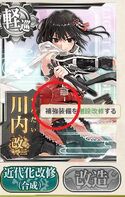 Go into the equipment menu
Select the ship you wish to add a slot to
Mouse over roughly the bottom half of the character's portrait; you should see some words appearing there, click them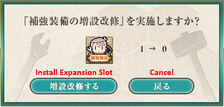 Confirm with the left button (cancel with the right)
The extra slot will appear over the portrait
Restrictions
Edit
This additional slot is limited to the following gear. Turbines do count towards the speed system buffs. High-angle guns can potentially interfere with Artillery Spotting.
Any ship:
Any non-DE ship:
Any ship able to equip anti-torpedo bulges in other slots:
Bulges (size depends on the ship type).
Agano-class, Yura Kai Ni, Suzuya (Kou) Kai Ni and Kumano (Kou) Kai Ni, Training Cruisers, Repair ships, Submarine Tenders:
Yamato Kai, Musashi Kai, Taihou, Ooyodo:
Fleet oilers: