Introduction
Edit
The Reinforcement Expansion is a consumable item added alongside the Summer 2015 Event that allows you to reinforce a ship to permanently add an additional utility equipment slot. For example, you can equip a reinforced ship with damecons
without compromising their equipment loadout.
Your Kanmusu must be at least Level 30 to install a Reinforcement Expansion.
The additional equipment slot given by a Reinforcement Expansion will remain with the ship permanently; remodels will not remove it..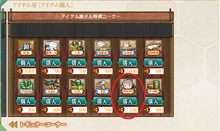 Reinforcement Expansions can be obtained through either normal gameplay, such as events and quests, or the cash shop for 500 DMM points.
To use the Reinforcement Expansion: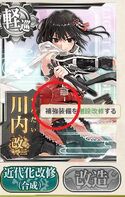 Go into the equipment menu.
Select the ship you wish to add give the Reinforcement Expansion to.
Mouse over roughly the bottom half of the ship's card. You should see a text box appear; once you do, click on it.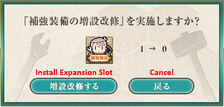 Press the left button to confirm the application of the Reinforcement Expansion (press the right button to cancel it).
The extra slot will appear ontop of the right side of the ship card.
Allowed Equipment
Edit
Only certain pieces of equipment can be placed inside the additional slot given by a Reinforcement Expansion; the equipment allowed is dependent on the ship that was given the extra slot. Equipment placed inside this slot functions as if it were placed in a normal equipment slot.
Acquisition (Through Gameplay)
Edit
Events may reward this item for clearing certain maps on certain difficulties. Previously, this item was rewarded for completing:
Script error
Community content is available under
CC-BY-SA
unless otherwise noted.