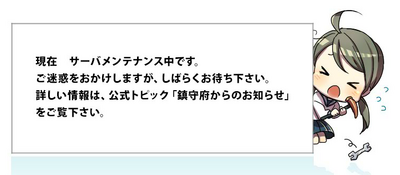 Latest Update: 30th October, 2015
Next Update: Mid-November, 2015
Note: If KanColle can't be entered after an update, set the computer clock to UTC+09:00 (Osaka, Sapporo, Tokyo) timezone as well as emptying the browser & flash player cache - maybe even the cookies. If other plugins or IE-based browsers are utilized, try clearing the plugins' & IE's cache, respectively.
Last Update
Gallery
Zuikaku second remodel[1]

Hypothetical Remodel
Convertible Remodel like Shoukaku Kai Ni ←→ Kai Ni A
According to Comptiq Volume June 2015 it is going to be a remodelling that is based on a what-if scenario in which both Shoukaku & Zuikaku survived the Mariana campaign and the Battle of Leyte Gulf.[2]
Prototype Flight Deck Catapult required.

10+ New quest

Give another Prototype Flight Deck Catapult
New!Give New Item: Skilled Crew Member

Note that the original tweet said "Item" not "Equipment"

Give strong fighter squadron at the end.

The fighter squadron will be using existing planes (not jet).

User Interface Enhancement

New!Added ability to record & re-organize fleet composition
"New!" 3 Fleet compositions available on default, expandable up to 12 with dock keys
and so on

New!Homeport expansion

270 ship slots (previously 260)
 ? equipment slots (previously 1140)

End of Fall CG, including Yukata CG, Oktoberfest CG, and Mackerel Pike Festival CG.

They will be placed into player's library afterwards.

End of Mackerel Pike Festival mini-event.

RAW FISH WILL DISAPPEAR AFTER THIS UPDATE! If you don't want to waste your fishes then be sure to cook them before maintenance begin!
"New!" Isokaze drop finished

Halloween seasonal CG updates
"New!" Libeccio drops at 4-5 until the next Update (Autum Event)

"New" Admirals without her have a three times higher drop rate
"New!" Evasion parameter for Shiden Kai2 have been adjusted (Evasion +3)
Future Updates
Mid-November 2015
mid-November as in the middle third of the month or the middle ten days of the month.
Fall 2015 Event

It's gonna be a mid-size event.
Oct17 dev tweet: "It would be good for you to prepare your fleets and resources"

New! New Training Cruiser
Other long term hints that are not from the official twitter
Sept2015 infoNew Ships
2013 info

According to a quarterly mook 艦これ鎮守府生活のすゝめVol.1 which was released in September 2013, there are plans to implement new escort ships. Because their displacement is less than that of destroyers, they would take a younger form, but they have said its for the final phase of the war. While they want to release it as soon as possible, they have told the fanbase to please be patient about it. (That volume of mook also revealed the plan to implement Musashi, Akizuki-class destroyers, and Agano-class cruisers which are all now part of the game.)
From an official twitter post in 13 October, 2013, Aircraft Carrier Shinano is "completed and on stand-by for introduction, but waiting for her turn as a Standard Carrier". She is currently the last unimplemented IJN Standard Carrier that was completed historically, after Katsuragi's introduction in Spring 2015. Some text from a doujin printed by C2機関, the doujin circle that initially came up with the idea of KanColle and now with some of its member including Tanaka joining the KanColle operation, also mentioned something about Shinano's illustrator back in one of its doujin in 2013.
No matter the Kii-class to be implemented will be Kai-Yamato-class or Super Yamato-class, according to a 4gamers.net interview in September 2013, it would feature a 5th equipment slot.

2014 Info

According to the magazine Febri Vol.26 released at the end of year 2014, implementation of "Escort carrier ended with tragedy", "Matsu-class", "... of oversea ships", and "...of submarine" have been planned.(that volume also hinted at the implementation of Unryuu class ships like Amagi and Katsuragi)

2015 Info

According to Comptiq Volume 2015 April released in March 2015, in the third year of the game (Apr 23, 2015 to Apr 22,2016), there will be plenty of oversea ships and auxiliary ships like Seaplane Tender(e.g.the Akitsushima implemented in April 2015, Mizuho in August 2015). Also, in the year there will be implementation of Type D Destroyers (Matsu-class) and its derived ship.[3]
According to 鎮守府生活のすゝめ Vol.6 released in May 2015, it is stated again that escort ships will be implemented later to represent surface escort warfare but they will be for the later stages as with their equipment to show a sense of late stage battle. This year, there will be more auxiliary ships and boats (as mentioned above), like Flying Boat, thicket Destroyers (Matsu-class) and high speed transport ships that are based on the aforementioned wartime destroyers (No.1-class landing ship), as well as some even more special ships (Fleet Oiler that can carry Aircraft: Hayasui).[4]
Sept2015 infoAccording to October 2015 Comptiq, Foreign Large Ship will be implemented in the future. Source have not mention anything about whether it will be LSC or drop or event reward.
Sept2015 infoKai 2
Kai 2

According to the official Fubuki 4koma manga's attached explanation in Tankoubon edition, it has been stated somewhere else that all kanmusus will get their second remodel (eventually).
Sept2015 infoEvent
Event

Sept2015 infoAccording to October 2015 Comptiq, (2015) Fall event would be relatively short and easy.
Sept2015 infoAccording to October 2015 Comptiq, (the next) Winter event would be a countrattack operation.[7]
Other Features
Other features

Since KanColle's launch, on top of the game's main screen, it has a greyed out button with text saying "friendship system" and "to be implement in phase 2".
According to early 2013 news report, there were plan to support flash-enabled android tablet and smartphone,[8] but official site do not currently include relevant content. At TGS 2015, DMM announced they would be porting KanColle to the Android platform; it will share the account data with the Flash version.
Archived updates
References
Commenting Reminders for NEW Threads