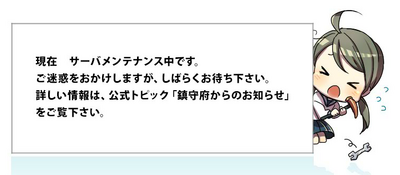 Here are listed updates from Kancolle game maintenance.
Latest Maintenance:  23rd February, 2015
Next Maintenance: 13th March, 2015
Future updates
13 March, 2015
Regarding the hishimochi:

Hishimochi will cease to drop
The hishimochi collecting quests will also end
Any hishimochi collected will remain in your inventory
TBA:
Last update
23rd February 2015
[Girl's Day (also known as Doll's Day) has 2 names in Japanese: 桃の節句 (momo no sekku) and 雛祭り (hinamatsuri). For simplicity, both of those will be written as Hinamatsuri in the English below.]
End of Winter 2015 Event
Valentine's Day content is removed

Limited-time Valentine's Day themed voices are removed
Limited-time Valentine's Day themed CGs are removed

These will now appear in the ship album / library.

New BGM

【桃の節句と艦娘】"Hinamatsuri and the Shipgirls"

Furniture

Added new furniture (Hinamatsuri-themed)

BGM Changers

雛人形豪華四段飾り "Gorgeous four-stage doll decoration"
「長門」「陸奥」の雛人形 "Nagato and Mutsu dolls"
桃の節句の壁紙 "Hinamatsuri wallpaper" -new!
桃の節句の窓 "Hinamatsuri window" -new!
These will change the homeport BGM to 【桃の節句と艦娘】"Hinamatsuri and the Shipgirls"

Returning Furniture

春仕様の壁紙 "Spring type wallpaper"
ピンクコンクリ壁 "Pink concrete wall"
龍の壁紙 "Dragon wallpaper"
金剛の紅茶セット "Kongou's black tea set"
布団と枕 "Futon and pillow"
爽やかな窓 "Clear window"
昔ながらのすりガラス "Old-fashioned frosted glass"

Updates to the 「鎮守府カウンターバー」"Anchorage Counter Bar"

Wine version
Juice version

New consumable item: 【菱餅】"Hishimochi "

Can be obtained from world 3-3 and beyond
Can also be obtained from the latter half of world 1
Can be converted into various goods, including resources and "sweet flavours"

If you gather more of them, you might be able to get even better rewards

Skilled sentries can be obtained by gathering lots of hishimochis

Updates to Skilled Lookouts

Visualisation of their effect
Slightly increases the trigger chance of special attacks in night battle
The effect will activate when the special attack activates for the shipgirl

Bug fixes and other updates

Katori's banner had a bit of an issue, which has been fixed
Akashi's Improvement Arsenal's support shipgirl's (2nd ship in fleet when upgrading stuff) voice has had some issues, which has been fixed

Akashi's Improvement Arsenal
Official Twitter
Archived updates
For updates starting June 2014, see the forum section News and Announcements .
Japan Standard Time