InformationEdit
The Tables Have Turned! Attack the Enemy Task Force!


反転!敵任務部隊を撃て!

Information
Boss gauge
(HQ 120)
Easy: ? HP
Medium: ? HP
Hard: 850TP +900TP +5000 HP
Rewards

Casual:

Nothing
E-4 Branching Rules
Nodes
Rules
Map Progression
Edit
Map Guide
Edit
This Map consists of 5 Phases and requires all 3 Combined Fleet types.
Phase 1: Transport Phase at Node M
Edit
Transport Combined Fleet
CVE CAV 4DD // CL 3DD 2CA routes C-E-H-I-L-M
CVE CAV 4DD // CL 5DD skips Node I but makes S-Ranking the Boss harder.
Since the Boss is CV Hime it is advised to bring Seaplane Fighters to let the CVE (Zuihou) profit off of the Plane Bonus.
Phase 2: Opening the second Boss Node
Edit
Do the following in any order (Be advised some below may not be required for lower difficulties)
Unlock Requirements
Difficulty
G
D
A
Hard
AS
S
AS
Medium
AS
S
-
Easy
AS
-
-
Casual
-
-
-
This can be done via a Submarine Fleet if you have enough Seaplane Fighters, otherwise you can use a Surface Task Force Combined Fleet instead.
Surface Task Force: 2FBB 2CA(V) 2CVL // 1CL 2DD 3XX
Phase 3: Transport Phase at Node R
Edit
It is possible to use a single Fleet or Surface Task Force, the latter is recommended for efficiency.
Surface Task Force: 2(F)BB 2CA(V) CVL DD // CL CA 4DD
Using a combined fleet will route C-B-A-D-O-Q-R, a single feet may skip Node D and go A-O but don't.
Phase 4: Opening the Third Boss Node
Edit
 Use Transport Combined Fleet from Phase 1.
Phase 5: Destroyer Forest Princess
Edit
Carrier Task Force 2(F)BB CVL 2CV(B) CA(V) // CL 2DD 2CLT CA (CLT and CA seem to be interchangeable) this composition will route C-E-H-S-V-X-Z3.
It is recommended to load up one of the Destroyers with ASW gear to deal with the Submarine on Node X.
Due to Node X consisting of a Battleship Princess, a Re-Class and Submarine it is highly advised to use Node Support Expedition to survive the Node.
As the Boss Node has a LBAS Range of 8 and there are Enemy Carriers at the Boss you will need Fighters and extend their Range by using LB-Recon, Taitei or Catalina.
Use the Damage Bonus planes on all your Carriers if possible. As their Bonus applies to the whole map and can help surviving Node X as your Carriers are able to oneshot Re-Class and Battleship Princess with it.
The Historical Bonus of the planes applies to any CV equipped with them and can deal very high damage on a Critcal Hit, up to straight up nuking the Boss.
Since Skilled Lookouts can now be equipped in Expansion Slots they can be used to increase the chances of your TCI-setup ships actually doing what they are supposed to do.
Boss Debuff: (Last Dance only)
Edit
Do the following in any order (Be advised some below may not be required for lower difficulties)
Note: Only attempt when on the boss' final form. Conditions performed before that will not count.
Unlock Requirements
Difficulty
M
R
X
LB Defense
Hard
S
S
A+
AS x2
Medium
S
S
A+
AS
Easy
S
S
-
-
Casual
S
S
-
-
Map Bonuses
Edit
DISCLAIMER: This information is based on user submitted data and is subject to revisions as more data is gathered. Any version of the ship receives the bonus regardless of remodel.
Ship
Damage Bonus
Boss Node Z3
1.25x
1.3x
Debuff Modifier (Multiplicative with above; Applies to All Ships)
Only when attacking Destroyer Forest Princess
1.2x
931 Air Group Map Bonus
Edit
The following planes have an additional damage bonus in this map. Zuihou additionally has her own unique bonus multipliers at Boss Nodes and Node X.
Note: For the 2+ Equipped Bonuses, both equipped planes cannot have the same name.
Nodes Applicable
Damage Bonus
1 Equipped
2 Equipped
3 Equipped
Any Carrier
All Submarine Nodes
B E N Z
1.45x
1.7x
1.96x
All Pre-Boss Surface Nodes
(Excluding Node X)
1.2x
1.3x
1.45x
Boss Nodes and Node X
R M X Z3
1.55x
1.67x
1.79x
Ship Specific (Boss Nodes and Node X Only)

(Multiplicative with her map bonus)
1.45x
(1.885x)
1.7x
(2.21x)
1.96x
(2.548x)
Equipment Bonuses
Edit
The following equipment deals bonus damage to Battleship Princess and Heavy Cruiser Princess Variants.
This is not a map specific bonus, but applies to enemies appearing in this map.
Equipment
Damage Bonus
CAH
BBH
Any AP Shell
1.1x
1.2x
Any Seaplane Bomber
1.15x
1.1x
Any Seaplane Fighter
LBAS Flight Range
Edit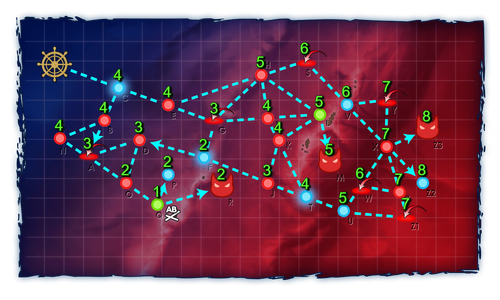 The following enemy patterns and ship drops are autogenerated.
If in doubt, use tooltips to check sample sizes.
Enemy patterns
Edit
E-4 AB
#
Formation
High Altitude Air Raids
AD/AP
AS/AS+
AB

Diamond

109/217
488/975

Diamond

87/173
387/774

Diamond

110/219
491/981
#
Formation
High Altitude Air Raids
AD/AP
AS/AS+
#
Formation
Air Defense Node
AD/AP
AS/AS+
A

Diamond

33/65
144/288

Diamond

44/87
195/390

Diamond

49/97
216/432
#
Formation
Air Defense Node
AD/AP
AS/AS+
#
Formation
Normal Battle Node
AD/AP
AS/AS+
B

Echelon




Line Abreast

0/0
0/0

Echelon




Line Abreast

0/0
0/0

Echelon




Line Abreast

0/0
0/0
#
Formation
Normal Battle Node
AD/AP
AS/AS+
E-4 C
#
Selection Node
C

艦隊の針路を選択できます。提督、どちらの針路をとられますか?


You can decide the fleet's course. Admiral, which heading should we take?
#
Selection Node
#
Formation
Normal Battle Node
AD/AP
AS/AS+
D

Line Ahead




Double Line




Echelon

0/0
0/0
#
Formation
Normal Battle Node
AD/AP
AS/AS+
#
Formation
Normal Battle Node
AD/AP
AS/AS+
E

Echelon




Line Abreast

0/0
0/0

Echelon




Line Abreast

0/0
0/0

Echelon




Line Abreast

0/0
0/0
#
Formation
Normal Battle Node
AD/AP
AS/AS+
E-4 F
#
Selection Node
F

艦隊の針路を選択できます。提督、どちらの針路をとられますか?


You can decide the fleet's course. Admiral, which heading should we take?
#
Selection Node
#
Formation
Air Defense Node
AD/AP
AS/AS+
G

Diamond

33/65
144/288

Diamond

44/87
195/390

Diamond

49/97
216/432
#
Formation
Air Defense Node
AD/AP
AS/AS+
#
Formation
Normal Battle Node
AD/AP
AS/AS+
H

Line Ahead




Double Line




Echelon

0/0
0/0
#
Formation
Normal Battle Node
AD/AP
AS/AS+
#
Formation
Normal Battle Node
AD/AP
AS/AS+
I

Line Ahead




Double Line




Echelon

0/0
0/0
#
Formation
Normal Battle Node
AD/AP
AS/AS+
#
Formation
Normal Battle Node
AD/AP
AS/AS+
J

Line Ahead




Double Line




Echelon

0/0
0/0
#
Formation
Normal Battle Node
AD/AP
AS/AS+
#
Formation
Normal Battle Node
AD/AP
AS/AS+
K

Line Ahead




Double Line




Echelon

0/0
0/0
#
Formation
Normal Battle Node
AD/AP
AS/AS+
E-4 L
| # | Landing Node |
| --- | --- |
| # | Landing Node |
#
Formation
Boss Battle Node
AD/AP
AS/AS+
M

Diamond

52/103
231/462

Line Ahead




Diamond




(Final)

52/103
231/462
#
Formation
Boss Battle Node
AD/AP
AS/AS+
#
Formation
Normal Battle Node
AD/AP
AS/AS+
N

Echelon

0/0
0/0
#
Formation
Normal Battle Node
AD/AP
AS/AS+
#
Formation
Normal Battle Node
AD/AP
AS/AS+
O

Line Ahead




Double Line




Diamond

45/89
198/396
#
Formation
Normal Battle Node
AD/AP
AS/AS+
E-4 P
#
Empty Node
P

敵影を見ず。


No enemy spotted.
#
Empty Node
E-4 Q
| # | Landing Node |
| --- | --- |
| # | Landing Node |
#
Formation
Boss Battle Node
AD/AP
AS/AS+
R

Line Ahead

45/89
198/396

Diamond

45/89
198/396

Line Ahead




(Final)

45/89
198/396
#
Formation
Boss Battle Node
AD/AP
AS/AS+
#
Formation
Air Defense Node
AD/AP
AS/AS+
S

Diamond

108/215
482/963

Diamond

85/169
378/756

Diamond

118/235
527/1053
#
Formation
Air Defense Node
AD/AP
AS/AS+
E-4 T
#
Selection Node
T

艦隊の針路を選択できます。提督、どちらの針路をとられますか?


You can decide the fleet's course. Admiral, which heading should we take?
#
Selection Node
E-4 U
#
Empty Node
U
気のせいだった。
敵艦載機接近中…対空戦闘、用意ッ!
Must be my imagination.
Enemy planes approaching... Prepare for anti-air combat!
#
Empty Node
E-4 V
#
Empty Node
V
気のせいだった。
敵機動部隊発見!…各艦戦闘用意ッ!
Must be my imagination.
Enemy task force spotted! ...All ships, prepare for battle!
#
Empty Node
#
Formation
Air Defense Node
AD/AP
AS/AS+
W

Diamond

108/215
482/963

Diamond

85/169
378/756

Diamond

118/235
527/1053
#
Formation
Air Defense Node
AD/AP
AS/AS+
#
Formation
Normal Battle Node
AD/AP
AS/AS+
X

Line Ahead




Echelon

86/172
386/771

Line Ahead

86/172
386/771
#
Formation
Normal Battle Node
AD/AP
AS/AS+
#
Formation
Air Defense Node
AD/AP
AS/AS+
Y

Diamond

108/215
482/963

Diamond

85/169
378/756

Diamond

118/235
527/1053
#
Formation
Air Defense Node
AD/AP
AS/AS+
#
Formation
Normal Battle Node
AD/AP
AS/AS+
Z

Line Abreast

0/0
0/0
#
Formation
Normal Battle Node
AD/AP
AS/AS+
#
Formation
Air Defense Node
AD/AP
AS/AS+
Z1

Diamond

118/235
527/1053
#
Formation
Air Defense Node
AD/AP
AS/AS+
E-4 Z2
#
Empty Node
Z2
敵影を見ず。
敵機動部隊発見!…各艦戦闘用意ッ!
No enemy spotted.
Enemy task force spotted! ...All ships, prepare for battle!
#
Empty Node
#
Formation
Boss Battle Node
AD/AP
AS/AS+
Z3

Cruising Formation 4

89/177
396/792

Cruising Formation 4




(Final)

89/177
396/792
#
Formation
Boss Battle Node
AD/AP
AS/AS+
E-4 AB
#
Formation
High Altitude Air Raids
AD/AP
AS/AS+
AB

Diamond

92/183
410/819

Diamond

69/138
309/618

Diamond

92/184
413/825
#
Formation
High Altitude Air Raids
AD/AP
AS/AS+
#
Formation
Air Defense Node
AD/AP
AS/AS+
A

Diamond

28/55
123/246

Diamond

35/69
153/306

Diamond

39/78
174/348
#
Formation
Air Defense Node
AD/AP
AS/AS+
#
Formation
Normal Battle Node
AD/AP
AS/AS+
B

Echelon




Line Abreast

0/0
0/0

Echelon




Line Abreast

0/0
0/0

Echelon




Line Abreast

0/0
0/0

Echelon




Line Abreast

0/0
0/0
#
Formation
Normal Battle Node
AD/AP
AS/AS+
E-4 C
#
Selection Node
C

艦隊の針路を選択できます。提督、どちらの針路をとられますか?


You can decide the fleet's course. Admiral, which heading should we take?
#
Selection Node
#
Formation
Normal Battle Node
AD/AP
AS/AS+
D

Line Ahead




Double Line




Echelon

0/0
0/0
#
Formation
Normal Battle Node
AD/AP
AS/AS+
#
Formation
Normal Battle Node
AD/AP
AS/AS+
E

Echelon




Line Abreast

0/0
0/0

Echelon




Line Abreast

0/0
0/0

Echelon




Line Abreast

0/0
0/0
#
Formation
Normal Battle Node
AD/AP
AS/AS+
E-4 F
#
Selection Node
F

艦隊の針路を選択できます。提督、どちらの針路をとられますか?


You can decide the fleet's course. Admiral, which heading should we take?
#
Selection Node
#
Formation
Air Defense Node
AD/AP
AS/AS+
G

Diamond

28/55
123/246

Diamond

35/69
153/306

Diamond

39/78
174/348
#
Formation
Air Defense Node
AD/AP
AS/AS+
#
Formation
Normal Battle Node
AD/AP
AS/AS+
H

Line Ahead




Double Line




Echelon

0/0
0/0
#
Formation
Normal Battle Node
AD/AP
AS/AS+
#
Formation
Normal Battle Node
AD/AP
AS/AS+
I

Line Ahead




Double Line




Echelon

0/0
0/0
#
Formation
Normal Battle Node
AD/AP
AS/AS+
#
Formation
Normal Battle Node
AD/AP
AS/AS+
J

Line Ahead




Double Line




Echelon

0/0
0/0
#
Formation
Normal Battle Node
AD/AP
AS/AS+
#
Formation
Normal Battle Node
AD/AP
AS/AS+
K

Line Ahead




Double Line




Echelon

0/0
0/0
#
Formation
Normal Battle Node
AD/AP
AS/AS+
E-4 L
| # | Landing Node |
| --- | --- |
| # | Landing Node |
#
Formation
Boss Battle Node
AD/AP
AS/AS+
M

Diamond

52/103
231/462

Line Ahead




Diamond




(Final)

52/103
231/462
#
Formation
Boss Battle Node
AD/AP
AS/AS+
#
Formation
Normal Battle Node
AD/AP
AS/AS+
N

Line Abreast

0/0
0/0
#
Formation
Normal Battle Node
AD/AP
AS/AS+
#
Formation
Normal Battle Node
AD/AP
AS/AS+
O

Line Ahead




Double Line




Diamond

36/71
159/318
#
Formation
Normal Battle Node
AD/AP
AS/AS+
E-4 P
#
Empty Node
P

敵影を見ず。


No enemy spotted.
#
Empty Node
E-4 Q
| # | Landing Node |
| --- | --- |
| # | Landing Node |
#
Formation
Boss Battle Node
AD/AP
AS/AS+
R

Diamond

36/71
159/318

Line Ahead

36/71
159/318

Line Ahead




(Final)

36/71
159/318
#
Formation
Boss Battle Node
AD/AP
AS/AS+
#
Formation
Air Defense Node
AD/AP
AS/AS+
S

Diamond

90/180
404/807

Diamond

67/134
300/600

Diamond

91/182
408/816
#
Formation
Air Defense Node
AD/AP
AS/AS+
E-4 T
#
Selection Node
T

艦隊の針路を選択できます。提督、どちらの針路をとられますか?


You can decide the fleet's course. Admiral, which heading should we take?
#
Selection Node
E-4 U
#
Empty Node
U
気のせいだった。
敵艦載機接近中…対空戦闘、用意ッ!
Must be my imagination.
Enemy planes approaching... Prepare for anti-air combat!
#
Empty Node
E-4 V
#
Empty Node
V
気のせいだった。
敵機動部隊発見!…各艦戦闘用意ッ!
Must be my imagination.
Enemy task force spotted! ...All ships, prepare for battle!
#
Empty Node
#
Formation
Air Defense Node
AD/AP
AS/AS+
W

Diamond