InformationEdit
The Tables Have Turned! Attack the Enemy Task Force!


反転!敵任務部隊を撃て!

Information
Boss gauge
(HQ 120)
Casual: 440 TP + 520 TP + 3500 HP
Easy: 440 TP + 520 TP + 3500 HP
Medium: 660 TP + 780 TP + 4200 HP
Hard: 850 TP + 900 TP + 5000 HP
Rewards

Casual:

Nothing
E-4 Part 1
Nodes
Rules

Do not meet the requirements to go to H.

Meet ALL of the following requirements:

Single Fleet OR Transport Combined Fleet
If Transport Combined Fleet, no AV or LHA
No SS(V)
If Single Fleet, meet ALL of the following requirements:

Amount of DD ≥ 3
Amount of (F)BB(V) = 1
Amount of CVL = 1

Do not meet the requirements to go to I.

Meet ALL of the following requirements:

Single Fleet
Amount of DD ≥ 4

Do not meet the requirements to go to L.

Meet ALL of the following requirements:

Transport Combined Fleet
Amount of DD ≥ 9
Fast Fleet (engines/boilers not allowed)

Do not meet the requirements to go to L.

Meet ALL of the following requirements:

Single Fleet OR Transport Combined Fleet
Amount of DD ≥ 2
E-4 Part 2
Nodes
Rules

Meet ANY of the following requirements:

Route to node N is not unlocked.
Single Fleet
Surface Task Force

Do not meet the requirements to go to A.

Do not meet the requirements to go to O.

Meet ALL of the following requirements:

Single Fleet OR Transport Combined Fleet
Amount of DD ≥ 2
Amount of (F)BB(V)+CV(L/B) ≤ 2
No SS(V)

Do not meet the requirements to go to H.

Meet ALL of the following requirements:

No Surface Task Force
If Transport Combined Fleet, no AV or LHA
If Carrier Task Force, amount of CV(B) ≤ 2
If Single Fleet, meet ALL of the following requirements:

Amount of DD ≥ 3
Amount of (F)BB(V) = 1
Amount of CVL = 1

Do not meet the requirements to go to I.

Meet ALL of the following requirements:

Single Fleet
Amount of DD ≥ 4
E-4 Part 3
Nodes
Rules

Do not meet the requirements to go to H.

Meet ALL of the following requirements:

No Surface Task Force
If Transport Combined Fleet, no AV or LHA
If Carrier Task Force, amount of CV(B) ≤ 2
If Single Fleet, meet ANY of the following requirements:

Fleet contains exactly 1 (F)BB(V) and 1 CVL
Amount of CV(L/B) ≥ 4
Amount of ships ≤ 5

Do not meet the requirements to go to either H or I.

Meet ALL of the following requirements:

Carrier Task Force
Route to node H is unlocked.

Meet ALL of the following requirements:

Single Fleet
Amount of DD ≥ 4

Do not meet the requirements to go to either L or S.

Meet ALL of the following requirements:

Transport Combined Fleet
Amount of DD ≥ 9
Fast Fleet (engines/boilers not allowed)

Meet ALL of the following requirements:

Carrier Task Force OR Single Fleet
Route to node S is unlocked.

Do not meet the requirements to go to T.

Do not meet the requirements to go to L.

Meet ALL of the following requirements:

Single Fleet OR Transport Combined Fleet
Amount of DD ≥ 2

Meet ALL of the following requirements:

Amount of CLT ≤ 1
No (F)BB(V) in Escort Fleet

Do not meet the requirements to go to W.

Do not meet the requirements to go to X.

Meet ALL of the following requirements:

Amount of (F)BB(V)+CV(L/B)+Akitsu Maru ≤ 5
Amount of CV(L/B)+Akitsu Maru ≤ 4
Amount of CV(B) ≤ 2
No SS(V)

Do not meet the requirements to go to X.
Map Progression
Edit
Map Bonuses
Edit
DISCLAIMER: This information is based on user submitted data and is subject to revisions as more data is gathered. Any version of the ship receives the bonus regardless of remodel.
Ship
Damage Bonus
Whole map
1.25x
1.3x
Debuff Modifier (Multiplicative with above; Applies to All Ships)
Only when attacking Destroyer Forest Princess
1.2x
931 Air Group Map Bonus
Edit
The following planes have an additional damage bonus in this map. Zuihou additionally has her own unique bonus multipliers at Boss Nodes and Node X.
Note: For the 2+ Equipped Bonuses, both equipped planes cannot have the same name.
Nodes Applicable
Damage Bonus
1 Equipped
2 Equipped
3 Equipped
Any Carrier
All Submarine Nodes
B E N Z
1.45x
1.7x
1.96x
All Pre-Boss Surface Nodes
(Excluding Node X)
1.2x
1.3x
1.45x
Boss Nodes and Node X
R M X Z3
1.55x
1.67x
1.79x
Ship Specific (Boss Nodes and Node X Only)

(Multiplicative with her map bonus)
1.45x
(1.885x)
1.7x
(2.21x)
1.96x
(2.548x)
Equipment Bonuses
Edit
The following equipment deals bonus damage to Battleship Princess and Heavy Cruiser Princess Variants.
This is not a map specific bonus, but applies to enemies appearing in this map.
Equipment
Damage Bonus
CAH
BBH
Any AP Shell
1.1x
1.2x
Any Seaplane Bomber
1.15x
1.1x
Any Seaplane Fighter
Medium+ Only: High-altitude Air Raid: LBAS Defense Check for Boss DebuffEdit
For Medium+ ONLY. E-4 does not have the restriction like E-3 to unlock nodes; however, you will need it for Boss debuff. This makes it optional but you should consider this before attempting the difficulties. The detailed explanation for high-altitude is in E-3's tab. This one will only cover the minimum air power needed for 0.5x multiplier (for 0 high-altitude interceptor) and 0.65x multiplier (for 3 bases with at least one Saiun in each).
Surplus is recommended in case of fluctuation. Please perform calculations based on the LBAS that you have (LBAS Air Defense Values) before continuing as you will not be able to obtain the boss debuff without reaching it.
Map Guide
Edit
This map consists of 2 transport phases, 1 boss gauge, 2 unlock gimmicks and an optional boss debuff gimmick.
All 3 land-bases are available. Only a maximum of 2 can be sortied, while the third may be used for air defense. The air raids in Medium+ are High-Altitude Air Raids, so use High-Altitude interceptors if you have them available.  The attacking enemies all have non-offensive fighters in their first slots, so equip the strongest three interceptors to the bottom three slots of defending bases to maximize enemy bomber interception.
Phase 1: Transport Phase at Node M
Edit
Transport Combined Fleet
Ex. CVE CAV 4DD // CL 5DD
Ex. CAV 5DD // CL 4DD CA

Routes C E H L M

Retreating any DDs will cause the fleet to route to I before L
Ex. CVE CAV 4DD // CL 3DD 2CA

No LoS checks
Node E is a submarine fleet
Nodes H and I are torpedo squadrons
Fleet Command Facility recommended as it's still quite possible to S Rank the boss with ships retreated, and A ranks are easy to obtain
Because the boss has some air power, it is advised to equip Seaplane Fighters to let the CVE (Zuihou Kai Ni B) benefit more from 931st Air Group bonuses
Land Base Support

Both bases to boss node (range 5) advised for higher difficulties
On Hard and Medium, first land base needs 54 air power for AD and 107 air power for AP

Assuming first base gets AP, second base needs approximately 43 air power for AD and 86 air power for AP
Other difficulties have similar, but sometimes slightly lower air power requirements

4 bomber first base, 1 fighter 3 bomber 2nd base can get AD AD AP AP if adjusted properly
Phase 2: Opening the second Boss Node
Edit
Do the following in any order (Be advised some below may not be required for lower difficulties)
Unlock Requirements
Difficulty
G
D
A
Hard
AS/AS+
A+
AS/AS+
Medium
AS/AS+
B+
-
Easy
AS/AS+
-
-
Casual
-
-
-
This can be done via a Submarine Fleet if you have enough Seaplane Fighters, otherwise you can use a Surface Task Force Combined Fleet instead.
Surface Task Force: 2FBB 2CA(V) 2CVL // 1CL 2DD 3XX
Phase 3: Transport Phase at Node R
Edit
Any fleet type can be used for this section (TCF and single fleet can possibly skip a battle and route A to O), but STF/CTF are recommended for consistency and ease of meeting LoS requirements
Nodes E N B are submarine nodes

1-3 OASW advised for Hard

Nodes AG are air raid nodes
Carrier Task Force
3 or more CV(B)
Ex. 3CV 3DD/CL // CL CLT 2-3DD 1-2CA(V)
Ex. 3CV BBV 2DD/CL // CL CLT 2-3DD 1-2CA(V)

Routes C E G F D O Q R

Relatively high bauxite consumption but has an easier time attaining necessary air power
Surface Task Force
Any composition
Ex. 2(F)BB(V) 2CA(V) CVL DD/CL // CL 4DD CA
Ex. 2(F)BB(V) 2CA(V) 2CVL // CL 4DD CLT

Routes C B N A D O Q R

High firepower and a relatively safe escort fleet to pile TP gain equipment in, but may involve locking more ships

Fleet Command Facility recommended but not necessary if running high opening firepower CTF, or STF
The boss node contains Heavy Cruiser Summer Princess (550 HP 189 armor on Hard) and in some formations Ne-class Heavy Cruiser Kai (390 HP 255 armor on Hard)

Some ways to aim to clear these tougher enemies:

Aim for carrier critical hits during day with 931st Air bonuses
Utilize Yamashiro Kai Ni with APCI and seaplane bomber bonus
Sink them at night with historical DA/TCI

Aiming for A ranks is also an option, although Kaiboukan No.4 and Johnston are known to drop on this node with S rank only in Medium/Hard

Land Base Setup

Similar to first gauge, 4 bomber 1st base 1 fighter 3 bomber 2nd base setup can be effective at lowering enemy air power while dealing damage

47/94 air power needed for AD/AP for first base

Around 300 starting air power advised on Hard (if aiming for AD AD AP AP with land base on boss)
Preboss/boss support shelling expeditions not needed, but boss support shelling may increase S rank rate if aiming for rare drops
Phase 4: Opening the Third Boss Node
Edit
 Use Transport Combined Fleet from Phase 1.
 Not needed on Easy and below.
Phase 5: Destroyer Forest Princess
Edit
Carrier Task Force
2 or less CV(B), 4 or less CV+CVB+CVL
Ex. 2CV(B) 2CVL 0-2BBV 0-2CAV 0-2 AV // CL 2-3DD 0-1CLT 0-2CA

Node E is a Yo-class submarine fleet, and node X is a mixed fleet that can contain a Yo-class Flagship submarine in Line Ahead formation.

At least 1 OASW ship advised, with at least two strong ASW equipment with synergy. A second ASW ship (single slot OASW) is also recommended for greater consistency while chipping.

Node X contains Battleship Summer Princess and a Re-class Battleship (Elite on hard). Unprepared fleets can be sent back easily by this node

Since carrier damage output is also important in the boss node, equipping for strong opening airstrikes (i.e. strong bombers, large slots) combined with support shelling is practical for dealing with this node.
The boss node Z3 is led by Destroyer Forest Princess (Up to 700 HP 290 Armor prefinal, 350 Armor final form)

In addition she is joined on Hard by Battleship Princess Kai
Especially during the final kill phase, high post-cap damage modifiers are required to deal with the multiple high-durability enemy ships in the enemy main fleet

Zuihou:

Zuihou Kai Ni is recommended over Kai Ni B due to slightly better slot capacity for the AA-vulnerable 931st Air torpedo bombers
With 2 different 931st air bombers equipped she reaches 2.21x post-cap modifer (before critical), and 2.7625x with FBA CVCI.
Recommended fleet flagship for protection and shelling order

Fleet Command Facility can be used on her lowest slot, but isn't recommended for final kill attempts in Hard

High Capacity CV/CVB:

While lacking historical bonus, standard carriers can have higher chances of dealing high opening airstrike damage and maintaining ranks on 931st air bombers, and can more easily utilize high critical damage 3 bomber setups that last until the boss node. They can also hit the day shelling firepower cap even in unfavorable engagement forms fairly easily.
Taihou, Intrepid, Zuikaku Kai Ni (not Kai Ni A), Shoukaku Kai Ni, Saratoga Mk.II Mod.2 have reasonable slot distributions for use on this boss

Shoukaku, Zuikaku and Saratoga have historical bonus on E7.

Yamashiro Kai Ni:

With APCI using a Seaplane Bomber, she can reach 2.673x post-cap modifier (before critical) against Battleship Princess Kai
Her damage against the boss and other targets is high but not quite as impressive (2.025x post-cap).

CVL:

Can be used with 1+ 931st as an over-cap damage source at the boss with FBA CVCI setup
But due to lower capacity compared to standard carriers and/or low range, CVL have a harder time outputting damage at the boss and may be better off as mainly supplementary damage and air power or Saiun holders.

Remaining main fleet slots should be used to bolster air power

CAV and/or 4 slot AV
Ise-class Kai Ni

5 carrier-based fighters or 4 carrier-based fighters and Saiun
Note if using Yamashiro Kai Ni, only up to one other BBV can be brought in CTF.

At least 1 931st torpedo bomber per CV/Zuihou is recommended, but admirals with more (and enough variety) should stack up to two on each ship.
If not reranking immediately out-of-map (e.g. in 1-1), 931st air planes that have lost ranks should be rotated to large 2nd/3rd slots in CV/CVB for regaining proficiency.

Reranking all bombers before sortieing is advised for final kill attempts on Hard.

Remaining bomber slots should be filled with planes with AA resist such as Egusa Suisei, Murata/Tomonaga Tenzans, etc. while enabling FBA CVCI, or with range-extending bombers for carriers with high capacity 2nd/3rd slots
Escort fleet

1 dedicated OASW (can also hold a searchlight). Historical ship recommended for bonus ASW damage
Historical TCI

Kasumi Kai Ni is commonly used
Kiso Kai Ni and especially Abukuma Kai Ni can also be set up with TCI, even if not luck modded, as their opening/closing torpedo damage also benefits and daytime torpedo damage contributes significantly against the enemy main fleet
Ushio Kai Ni is another possible option

Ashigara and/or Nachi are recommended to be used with day+night Double Attack setup, although if they are luck modded day DA + night mixed CI is somewhat an option. In CTF there are some shelling phases expected for the escort fleet, so pure TCI setups are not recommended
AO: for final kill attempts, 2 underway replenishment drums can be used to boost evasion at the boss, since it is difficult to avoid having damage dealers targeted at the boss by strong enemies. AOs can also double as star shell/searchlight holders.
Night scout recommended
Star Shell, Searchlight highly recommended
Land Base Setup

2 bases to boss node Z3 (range 8), one on air defense
All forms (Hard): 91/181 air power required for first base AD/AP at boss
For chipping 2 LBAA, 1 range 7 LB Fighter, and 1 land based scout (for range extension and contact) on each base is practical
For final kill attempts, to maximize damage output admirals with a good inventory of bombers may try the following AD AP AD AD setup
Final Kill Plane Rank Conservation (F5 technique)

On higher difficulties, this map has very strong anti-air and losing ranks on carrier-equipped bombers, even in relatively large slots, is not uncommon. Land-based bombers also can get dropped from 18 to 0 in a single aerial phase at the boss. However, as plane ranks contribute critical rate, damage and air power, having high ranks on all bombers for final kill attempts is desirable.

These observations also apply to E6 2nd boss and E7 2nd and 3rd bosses

Reranking carrier-based planes and land-based bombers is quite costly, both in terms of time and resources.
Refreshing the game page (F5ing) before battle ends, either at the night battle prompt or before the end of night battle when the loading circle appears, will prevent the game from resolving the loss of proficiency on both carrier and land-based planes from that sortie.

This also means there will be no ship drops from the last battle,
Any damage to the boss gauge will also not register, which why this is mainly a final kill phase technique.

Some admirals consider this technique a form of cheating the game mechanics.
The developers have in the past warned against hitting the F5 button repeatedly, but many admirals have not interpreted those warnings as speaking out against using it in the manner described here specifically. However, caution should be exercised, especially if admirals frequently refresh the game for other reasons (e.g. game errors frequently due to poor internet connection, or frequent API connection error messages)

In the worst case scenario an account may be suspended if suspicious activity/heavy load on servers is detected from it
Boss Debuff: (Last Dance only)
Edit
Do the following in any order (Be advised some below may not be required for lower difficulties)
Note: Only attempt when on the boss' final form. Conditions performed before that will not count.
Unlock Requirements
Difficulty
M
R
X
LB Defense
Hard
S
S
A+
AS x2
Medium
S
S
A+
AS
Easy
A
S
-
-
Casual
A
S
-
-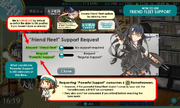 NOTE: friend fleets are disabled by default! Please toggle it on before proceeding!
Friend fleet must be manually toggled from the Home port (see the image) in order for it to appear at the boss node. You can request for a stronger friend fleet at the price of 6 flamethrowers; however, the definition of "stronger fleet" is still unknown.
E-4 Z3, Regular, Powerful Play Play
| Ship | Lv. | Equipment | | | | | |
| --- | --- | --- | --- | --- | --- | --- | --- |
| | 88 | | 38 | 40 | 0 | 34 | 34 |
| | 66 | | 18 | 12 | 84 | 0 | 21 |
| | 68 | | 18 | 12 | 79 | 0 | 19 |
| | 79 | | 32 | 59 | 85 | 81 | 55 |
| | 78 | | 33 | 68 | 84 | 70 | 53 |
| | 80 | | 30 | 49 | 79 | 48 | 49 |
LBAS Flight Range
Edit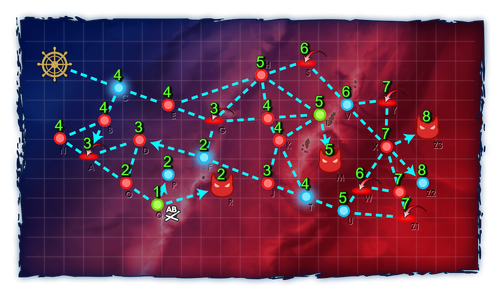 Enemy patterns
Edit
The following enemy patterns and ship drops are autogenerated.
If in doubt, use tooltips to check sample sizes.
E-4 AB
#
Formation
High Altitude Air Raids
AD/AP
AS/AS+
AB

Diamond

109/217
488/975

Diamond

87/173
387/774

Diamond

110/219
491/981
#
Formation
High Altitude Air Raids
AD/AP
AS/AS+
#
Formation
Air Defense Node
AD/AP
AS/AS+
A

Diamond

33/65
144/288

Diamond

44/87
195/390

Diamond

49/97
216/432
#
Formation
Air Defense Node
AD/AP
AS/AS+
#
Formation
Normal Battle Node
AD/AP
AS/AS+
B

Echelon




Line Abreast

0/0
0/0

Echelon




Line Abreast

0/0
0/0

Echelon




Line Abreast

0/0
0/0
#
Formation
Normal Battle Node
AD/AP
AS/AS+
E-4 C
#
Selection Node
C

艦隊の針路を選択できます。提督、どちらの針路をとられますか?


You can decide the fleet's course. Admiral, which heading should we take?
#
Selection Node
#
Formation
Normal Battle Node
AD/AP
AS/AS+
D

Line Ahead




Double Line




Echelon

0/0
0/0
#
Formation
Normal Battle Node
AD/AP
AS/AS+
#
Formation
Normal Battle Node
AD/AP
AS/AS+
E

Echelon




Line Abreast

0/0
0/0

Echelon




Line Abreast

0/0
0/0

Echelon




Line Abreast

0/0
0/0
#
Formation
Normal Battle Node
AD/AP
AS/AS+
E-4 F
#
Selection Node
F

艦隊の針路を選択できます。提督、どちらの針路をとられますか?


You can decide the fleet's course. Admiral, which heading should we take?
#
Selection Node
#
Formation
Air Defense Node
AD/AP
AS/AS+
G

Diamond

33/65
144/288

Diamond

44/87
195/390

Diamond

49/97
216/432
#
Formation
Air Defense Node
AD/AP
AS/AS+
#
Formation
Normal Battle Node
AD/AP
AS/AS+
H

Line Ahead




Double Line




Echelon

0/0
0/0
#
Formation
Normal Battle Node
AD/AP
AS/AS+
#
Formation
Normal Battle Node
AD/AP
AS/AS+
I

Line Ahead




Double Line




Echelon

0/0
0/0
#
Formation
Normal Battle Node
AD/AP
AS/AS+
#
Formation
Normal Battle Node
AD/AP
AS/AS+
J

Line Ahead




Double Line




Echelon

0/0
0/0
#
Formation
Normal Battle Node
AD/AP
AS/AS+
#
Formation
Normal Battle Node
AD/AP
AS/AS+
K

Line Ahead




Double Line




Echelon

0/0
0/0
#
Formation
Normal Battle Node
AD/AP
AS/AS+
E-4 L
| # | Landing Node |
| --- | --- |
| # | Landing Node |
#
Formation
Boss Battle Node
AD/AP
AS/AS+
M

Diamond

52/103
231/462

Line Ahead




Diamond




(Final)

52/103
231/462
#
Formation
Boss Battle Node
AD/AP
AS/AS+
#
Formation
Normal Battle Node
AD/AP
AS/AS+
N

Echelon

0/0
0/0
#
Formation
Normal Battle Node
AD/AP
AS/AS+
#
Formation
Normal Battle Node
AD/AP
AS/AS+
O

Line Ahead




Double Line




Diamond

45/89
198/396
#
Formation
Normal Battle Node
AD/AP
AS/AS+
E-4 P
#
Empty Node
P

敵影を見ず。


No enemy spotted.
#
Empty Node
E-4 Q
| # | Landing Node |
| --- | --- |
| # | Landing Node |
#
Formation
Boss Battle Node
AD/AP
AS/AS+
R

Line Ahead

45/89
198/396

Diamond

45/89
198/396

Line Ahead




(Final)

45/89
198/396
#
Formation
Boss Battle Node
AD/AP
AS/AS+
#
Formation
Air Defense Node
AD/AP
AS/AS+
S

Diamond

108/215
482/963

Diamond

85/169
378/756

Diamond

118/235
527/1053
#
Formation
Air Defense Node
AD/AP
AS/AS+
E-4 T
#
Selection Node
T

艦隊の針路を選択できます。提督、どちらの針路をとられますか?


You can decide the fleet's course. Admiral, which heading should we take?
#
Selection Node
E-4 U
#
Empty Node
U
気のせいだった。
敵艦載機接近中…対空戦闘、用意ッ!
Must be my imagination.
Enemy planes approaching... Prepare for anti-air combat!
#
Empty Node
E-4 V
#
Empty Node
V
気のせいだった。
敵機動部隊発見!…各艦戦闘用意ッ!
Must be my imagination.
Enemy task force spotted! ...All ships, prepare for battle!
#
Empty Node
#
Formation
Air Defense Node
AD/AP
AS/AS+
W

Diamond

108/215
482/963

Diamond

85/169
378/756

Diamond

118/235
527/1053
#
Formation
Air Defense Node
AD/AP
AS/AS+
#
Formation
Normal Battle Node
AD/AP
AS/AS+
X

Line Ahead




Echelon

86/172
386/771

Line Ahead

86/172
386/771
#
Formation
Normal Battle Node
AD/AP
AS/AS+
#
Formation
Air Defense Node
AD/AP
AS/AS+
Y

Diamond