Prototype Shuusui

Refittable Class
Coastal Defense Ship
Destroyer
Light Cruiser
Torpedo Cruiser
Heavy Cruiser
Training Cruiser
Aviation Cruiser
Fast Battleship
Battleship
Aviation Battleship
Light Carrier
Standard Aircraft Carrier
Armored Carrier
Seaplane Tender
Submarine
Aircraft Carrying Submarine
Submarine Tender
Fleet Oiler
Repair Ship
Amphibious Assault Ship
Introduction
科学の国で開発され、実戦配備に就いた世界初の量産ロケット
戦闘機。その貴重な技術資料を伊号潜水艦で持ち帰り、不完全
な図面から陸海軍共同で開発を進めた日本発のロケット戦闘機
の試作型です。通常のレシプロ機では迎撃の難しい、遥か高高
度から飛来する重爆の邀撃を目指します。
The first rocket fighter was developed and put into live combat by the Land of Science. Their valuable technical documents were brought back by an I-class submarine, and the Army and Navy cooperated, using incomplete diagrams, to create Japan's first prototype rocket fighter. It is intended for ambushing high-altitude heavy bombers that are difficult to intercept with standard reciprocating engine aircraft.
Notes
Unbuildable
Category Ships with Prototype Shuusui as stock equipment not found
Category Equipment that consume Prototype Shuusui during improvement not found
July 2019 Ranking Reward for all tiers.
Summer 2019 Event E-1 reward for all difficulties.
Prototype Shuusui is considered in-game as a high altitude interceptor.
High Altitude Interceptors multiply the total air power of all land bases in Air Defense mode, when defending against enemy High-Altitude Bombers. The multiplier depends on the number of high altitude interceptors equipped:

0: x0.5 (Total Air Power is halved)
1: x0.8
2: x1.1
3 or more: x1.2
Trivia
One of the Me 163B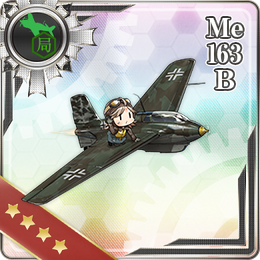 's analogs was Japanese licensed copy – J8M1 "Shuusui". For the first time Me.163B was showed to Japanese attaché in autumn 1943 and they recommended buying license for the plane for air defense purposes. In March-April 1944 Germans prepared documentation, a disassembled Me.163B and a group of specialists to be sent to Japan by 2 submarines. Only one of them reached Singapore. Reference aircraft and extremely valuable technical papers were lost.
Regardless of that, Japan started the development. 3 problems appeared immediately – plane, engine and fuel manufacturing. It is quite surprisingly how with lack of information and under constant bombing raids they all were solved in just about a year. Of course, Shuusui was somewhat different from Komet: Japanese cannons were installed, which were longer and heavier compared to German. Radio station also was replaced with Japanese one. Airframe was all-metal (and that's despite the scarcity of raw materials), although elevons, trim tabs and rudder frames were made from wood with fabric covering. Some equipment was removed and systems were simplified. As a result, weight of empty plane (1445 kg) turned out to be lower than original Me.163 (1505 kg). But the biggest issue was engine, which was slowing down the progress of whole development program. Various failures, explosions and fires were chasing Japanese engineers all the time. In the end, one specimen was considered as suitable to be installed on aircraft, even though it had a little bit less thrust – 1500 kgf instead of 1600 kgf on Komet.
J8M1 made its first flight on 7 July 1945. Plane was half filled with fuel. After take-off it went on attitude climb with 45° angle. At an attitude of 350 meters engine suddenly turned off. As a result of unsuccessful landing, plane's wing hit airfield's building and J8M1 did a nose-over. Although there was no explosion, prototype was destroyed and pilot died from injuries next day. The cause of the accident was found in wrong fuel system design. After that Shuusui program was ended, no time for completion left – the war was over.
See also