Present Boxes can be found and opened in the player's inventory screen. Upon opening, the player is presented with three options to choose from, of which only one may be picked:
Color
Name
Contents
[Red Box]
資源/Resource

550

and

550

[Green Box]
甘味/Sweets

1

[Grey Box]
資材/Material

3

and

1
One Present Box is rewarded upon clearing 1-6.
You can obtain a Present Box this way every month.
Many Quests reward Present Boxes upon completion.
During December 2014, Present Boxes could be obtained instead of the a typical ship drop. Instead of the usual ship drop notification, a different one would appear:


This would notify you that you've received a Christmas gift: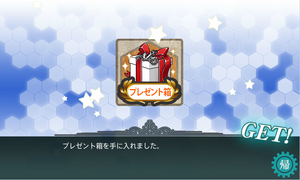 Boss Nodes (with some exceptions)
S-rank victory higher chance
A-rank victory still some chances
Can be drop even with Max ship
Obtainable in the following maps
[
edit
|
edit source
]
Unless specified, all drops are from the boss node.
1-4
1-5
1-6 (Doesn't drop if you cleared it in the same month)
2-3
2-4
2-5
3-2
3-3
3-4
3-5 (F node with Northern Princess and K node with boss)
4-3
4-4
5-3 (D and F)
5-5
6-1 (H node with Aircraft Carrier Princess and K node with boss)
6-2
December 12th, 2014 Update

Present Boxes now drop in specific maps.
Present Boxes will cease to drop after the December 26th, 2014 update.
Present Boxes in your inventory will not disappear.
The present boxes are still quite rare to get in this time so don't feel bad if you don't get one.
December 24th, 2015 Update

A Present Box is received upon logging in on Christmas Eve.

Unless one is in need of resources, it is recommended to choose the Material box as screws are relatively difficult to come by and are useful for improving equipment. Irako can be used to boost ship morale, but it is a single-use item and said morale can be acquired manually without much effort.
Currently, there seems to be no limit to how many Present Boxes one can keep in their inventory.
Community content is available under
CC-BY-SA
unless otherwise noted.