| Time until maintenance starts: | Time until maintenance ends: |
| --- | --- |
| October 18 2017 11:00:00 +0900 Maintenance has begun. | October 18 2017 19:30:00 +0900 Maintenance has ended. |
| Maintenance start date and time: | October 18th 2017 11:00 |
| Expected maintenance end date and time: | October 18th 2017 19:30 |
| Actual maintenance end date and time: | October 18th 2017 19:30 |
The Saury 2017 Mini-Event comes to an end.

Saury limited-time quests will no longer be available.
Any Saury in possession will disappear from the inventory.
End of Coastal Defense Ships (DE) Limited-time Drop
[
edit
|
edit source
]
KanColle Android Updated to 1.0.11
[
edit
|
edit source
]
Update required from DMM GAMES App.
Yukata, Saury mode, Fishing mode Seasonal CGs are over.
Each respective Seasonal mode will be added into the Library.
The following girls have new/returning Seasonal CG:
NEW! Autumn Casual Outfit Seasonal CG:
NEW! Halloween CG:
Returning CG:
Button changes

Sortie and Expedition section's UI/Button has been slightly changed/updated.

Fixes

In the Composition and Resupply sections, the nuisance of where you had trouble in controls due to the smoke coming out from the Damaged Ships has been fixed.

OPTION update

It is now possible to mute the BGM and other sounds with One Click.

Furniture store UI update

The Furniture Store/Internal Change has been slightly changed/updated.
For Furnitures with Headquarters BGM change, a Music Fairy will be shown.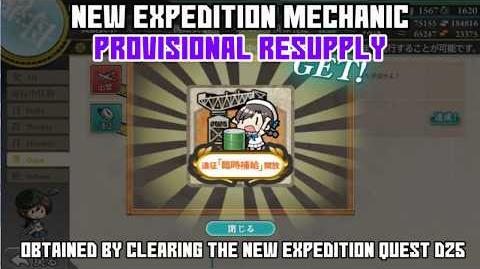 New "provisional resupply " in expedition page.

NOTE: Quest D25 must be cleared first in order to obtain the item (遠征「臨時補給」開放) that allows such function.
Can be used in the Expedition Preparation section by fulfilling a certain requirement
Can be used to resupply the expedition fleet on the expedition start screen.
No additional item is required in order to use provisional resupply.
Expeditions A2 and A3 can give Great Success without sparkling or special equipment.
Expedition 24 needs to be cleared for A3 to appear. Other requirements are uncertain.
Aircraft Carrier Cut-in (CVCI) update
[
edit
|
edit source
]
CVCI has been updated where the Aircraft's Proficiency will determine the Attack Success Rate/Critical Attack Success Rate/Critical Damage Output and etc.
The first slot bomber will also increase the attack success rate depending on its proficiency.
ID
Requirements
Rewards
Note
B107

補給線の安全を確保せよ!


Secure the Safety of the Transportation Route!
Sortie a fleet with Light Cruiser as flagship, 2 or more Destroyers/Coastal Defense Ships. You may bring up to 3 additional ships.
Sortie to World 1-3, 1-4, 1-5 and obtain at least A-rank victories at the boss node.
300 / 300 / 0 / 0
X 1


Underway Replenishment x 1


Requires: ?
D25

遠征「補給」支援体制を強化せよ!


Reinforce the Expedition Resupply Support Regime!
Prepare 800 Steel in your inventory, complete Expedition A1.
200 / 200 / 0 / 0
Provisional Resupply
X 2
Requires: B107
D26

近海に侵入する敵潜を制圧せよ!


Suppress the Enemy Ships intruding into the close seas!
Complete Expedition 4, A2, and A3 twice each per Expedition.
0 / 1000 / 0 / 300
X 3,
Type 95 Depth Charge
Requires: D24, D25

Quarterly Quest
Community content is available under
CC-BY-SA
unless otherwise noted.