Summary
New Quests
Underway Replenishment & Combat Ration system changes
Removal of White Day Voice lines & Gyūdon artworks
New Spring Season voice lines
Limited-time ship drops
New furniture
Mutsuki & Kisaragi buff
Kai-2 destroyer stat buffs
Aerial Combat animations update
ID
Requirements
Rewards
Note
B63

製油所地帯を防衛せよ!


Defend the Oil Refinery Zone!
Sortie a torpedo squadron (1 CL 5 DD) to World 1-3 and obtain three S-Ranks at the boss

400

0

0

0

x 1

x 1

Requires: Bd2
B64

南西諸島防衛線を強化せよ!


Reinforce the Nansei Islands Defence Line!
Sortie to World 1-4 and obtain five S-Ranks at the boss

0

0

400

0

x 1

x 1

Requires: B63, F31
B65

オリョール海の制海権を確保せよ!


Secure Control of the Orel Sea!
Sortie a fleet with Ooshio (model doesn't matter) as flagship to World 2-3 and obtain six S-Ranks at the boss

0

400

0

200

x 1

x 2

Requires: B64
B66

旗艦「大潮」出撃せよ!


Sortie the flagship "Ooshio"!
Sortie a fleet with Ooshio Kai Ni as flagship to World 3-5 and obtain an S-Rank at the boss

500

500

0

0

x 1

x 3

Requires: B65
F31

新家具の準備


Preparations for New Furniture
Scrap 9 pieces of equipment

0

0

90

0

x 1

Requires: Bd2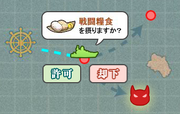 Seasonal Content
New Spring Season voice lines for more than 50 ship girls.
Removal of Sukiya promotional artworks & White Day voice lines.

Artworks have been added to the in-game library.

End of White Day Cookie sales.
"Spring of the Type-B Sisters" poster no longer available upon login.
New Furniture
Limited-time Ship Drops
Uzuki drops for everyone, and quite often to boot.
Mutsuki & Kisaragi buff
Kai-2 destroyer stat buffs
The following ships' maximum stats have been increased:
Visual Changes
Aerial Combat animations for seaplane bombers like Zuiun and seaplane fighters like Type 2 Seaplane Fighter Kai have been updated.
Land-based planes, once implemented, will have a similar animation.
Other
Changes to the game's startup API temporarily caused several viewers to not load their info tabs properly, but this has since been fixed. Just get the latest update.
Akitsushima's equipment pool coding was messed up shortly after the update, which prevented her from equipping Landind Crafts, Secondary Guns and Emergency Repairs, but allowed her to equip Prototype 51cm Twin Gun Mounts. This has already been fixed, unfortunately.
Abyssal Carriers incorrectly displayed land-based dive bombers as their equipment during the launch animation. This was just a visual bug without any bearing on their actual equipment and has already been fixed.
Related developers' tweets/notes/notices
Staff Twitter Pics
Community content is available under
CC-BY-SA
unless otherwise noted.