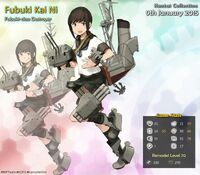 ---
Remodels
New Quests

2 Composition quests:
3 Sortie quests

「第十一駆逐隊」出撃せよ!
「第十一駆逐隊」対潜哨戒!
「第二一駆逐隊」出撃せよ!

Sortie the 21st Destroyer Division
Deploy a fleet consisting of Hatsuharu, Nenohi, Wakaba, Hatsushimo and up to two wildcards to 3-1 and get an S-Rank at the boss node

New Equipment
Furniture

New Year's furniture removed
Returning furniture:

破魔矢の窓 Hamaya Window
提督の麻雀卓 Admiral's Mahjong Table
ステンドグラス Stained Glass Window
「夜戦」掛け軸 "Night Battle" Hanging Scroll

The 「初詣セット」Naval District's Shrine Visit Set will be available until next update

Voice and other updates

Fubuki Kai will get new voices, including hourlies, homeport, sortie, etc.
New Year graphics and voices are removed

The limited time graphics will appear in the album

Yamagumo no longer drops from 1-5, but she still drops on the other worlds
Regarding Akashi's Improvement Arsenal:
Strengthening of "illegal player tracking feature"

Players using unauthorized external tools to play Kantai Collection, such as using bots and macros will be banned
The ability to discover these players has been enhanced (Discussion).
---
Twitter Teasers
Community content is available under
CC-BY-SA
unless otherwise noted.