V1-4: 近海諸島防衛線
Items
Restrictions
None
Strategy Info
近海諸島防衛線支援
近海諸島防衛線に我が艦隊を投入、
同防衛線を支援、敵侵攻艦隊を迎撃せよ!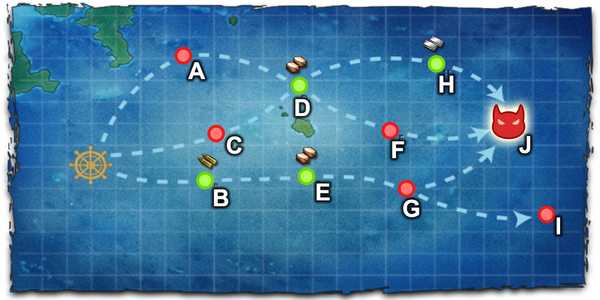 Map guide
Edit
Branching Rules
Nodes
Rules
Start

Random:

30% chance for A.
30% chance for B.
40% chance for C.

Go to J if CL is flagship and DD ≧ 3
Else, random:

45% chance for I.
55% chance for J.
This is the first map where enemy aircraft carriers appear. Aircraft carriers are able to perform an opening airstrike phase before the start of shelling that can easily wreck your ships if not countered.

It is recommended by this point to construct an aircraft carrier (CVL or CV) of your own or to get Akagi from Quest V217.
Recommended fleet composition
Edit
Any fleet will reach the boss node if they start from A or C.
If you wish to have 100% chance of reaching the boss node even if you start from B, it is recommended to bring a fleet with a CL as flagship and at least 3DD.
At least 1 CV(L) is recommended to make the boss node and (for harder difficulties) the preboss nodes less painful to deal with.

A is required for any aircraft carrier related action.

To let any aircraft carrying ship perform opening airstrike, the command must be put at the beginning of the commands chain.

Failure to do so will give enemies with planes free air supremacy against your fleet.

CV(L/B) stay idle with a during the shelling phase unlike other ships. You must use instead which will make every ship including CV(L/B) shell.

Note however that any ship excluding CV(L/B) will have extremely reduced accuracy and will not be able to perform any Artillery Spotting regardless of air state.

Example of battle commands with a CV(L/B) in the fleet (flag lvl 34 or lower):

Opening airstrike phase, 1 round of shelling for every ship except CV(L/B) and closing torpedo phase.
Enemy patterns
Edit
Drops list
Edit
Community content is available under
CC-BY-SA
unless otherwise noted.