For any question about dmm apps, please refer to FAQ
For any maintenance and update notices, please visit Recent Updates page.
Current KanColle Client Version: 1.0.14
Current DMM Games Version: 3.19.0
KanColle Android - Introduction
[
]
KanColle is now available on both Browser and Android!
The Browser and Android App will be synced into one same account as per your DMM account.
Release
[
]
KanColleAndroid is made available to all players since August 1st, 2016. Beta and pre-beta information can be viewed by clicking the "Expand" button below.
Pre-Registration Period
[
]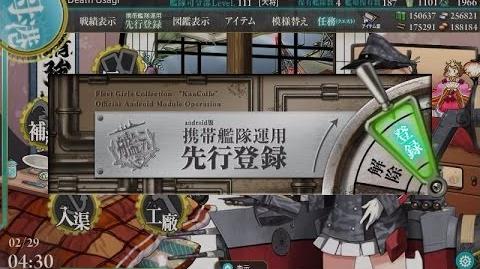 During the pre-registration period , on your main menu screen, there was an option on the top in the second button where you may register for the Android Lottery.
Players who set the Lever in the Registration option as "Registered" are placed into a lottery where random players of ~100,000 will be chosen to be able to start using the KanColle Android App first. (Devs said they're working to let as much users to be early users as possible). The result of that lottery will be communicate later.
The Pre-Registration ended on the 11th maintenance.
For some users, even after being registered into the lottery, it might turn red again on the next login. If that happens, it's recommended to do it with a different connection, clear cache/cookie, and use DMM page instead of the API connection.

Success notice transliteration (via Rephira):"【android先行登録】にお申し込みいただき、厚く御礼申し上げます。 抽選の結果、先行 運用枠に【 当選】されましたので、ここにお知らせいたします。 現在準備中のandroid版艦隊運用環境の先行運用versionを、準備が整い次第お 届けするようにいたします。"

Success notice translation (via Rephira): "Thank you very much for applying for the "android pre-registration". Following the lottery, you have been chosen to participate in the beta test. We will be sending access to you as soon as the beta version of the android is ready."

According to this comment, irrespective if you have either won the pre-registration selection or not the BGM played is this sound file.
A full transliteration is also available via clicking on the [Expand] button.
Transliteration provided by https://ocr.space/
Success notice
Failure notice

【android版先行登録】のお知らせ

【android版先行登録】にお申し込みいただき、
厚く御礼申し上げます.

抽選の結果、先行運用枠に【当選】されました
ので、ここにお知らせいたします.

現在準備中のandroid版艦隊運用環境の
先行運用versionを、準備が整い次第
お届けするようにいたします

※運川県境役人タイミングは現在飛整中です.
申しありません、もう少しだけお待ち頂け
ますと幸いです。

同最新状況は、このinformationでも
お知らせする予定です.

今後とも「艦これ」と「艦娘」を
どうぞよろしくお願いいたします.


【android版先行登録】のお知らせ
 
【android版先行登録】にお申し込みいただき、 
厚く御礼申し上げます.
 
抽選を行いました結果、残念ながら当選とは 
なりませんでした。大変恐縮ではありますが、 
ここにお知らせいたします.
 
今回先行運用枠はご用意できませ 
んでしたが、可能な限り早く、 
android版艦隊運用環境を皆さんに 
お届けできるように努めます. 
同最新状況は、このinformationでも 
お知らせするようにいたします. 

今後とも「艦これ」と「艦娘」を 
どうぞよろしくお願いいたします.

===Closed Beta Test===
Phase 1 - Released on June 10, 2016
Phase 2 - Released on June 22, 2016
Phase 3 - Released on July 15, 2016 (Open to all players who participated in the Closed Beta Test Lottery from April)
Known Problems about the Android Client
[
]
A Text Error pertaining to the number of Development Materials used in LSC has been found in KC Android.

As shown in the comparison photo between the KC Web Browser LSC and KC Android LSC, the number of Development Materials players can choose to use in Web Browser is 1/20/100 but in Android it is 10/20/100.
Please do not panic as this is just a Text Error made by the KC Devs!
It has been confirmed to only consume 1 Development Material even though it showed 10 Development Materials in KC Android.

In some reports by other KC Android Beta Testers, the expedition text has been found to overlap, which shows the player 成功, 大成功 and 失敗 all at the same time.
There is a Bug where if you switch between the Home Screen and Quest List in KC Android, the BGM from the Home Screen will play instead of the BGM from the Quest List.
There is an issue concerning the size being rather large for both the KC Android Interface and KC Android Text in the Ship Girls List.

This has cause some of the Ship Girls Name to be omitted from the List itself (E.g. Kitakami) and only the Ship Type can be seen.
In LSC, players who have more than 1000 Development Materials can only see 3 digits as shown in the gallery.
22nd June 2016 Update
[
]
As of 22nd June Update, some Bugs and Errors have been fixed for KC Android as listed below:
Music Bug has been fixed!

Even if you try to switch between Quest List Screen and Home Screen, their original intended music will play. The Music from Home Screen will no longer play in Quest List Section.

LSC Text Error has been fixed!

LSC Now shows 1/20/100 instead of 10/20/100.

Text Size for Ship Girls Name and Type has been Readjusted!

You can now see both the Ship Girls Name and Type!
Public Release
[
]
Public release on August 1st, 2016.
Recommended Hardware Spec
[
]
OS : At least Android 4.4 (Note: users with Android version down to 4.0 reported that they can still use the client.)
CPU : At least 1 GHz
Memory : At least 1 GB
Phone/Device Storage Size : At least 100MB
NOTE: Even if your phone does meet the requirements stated above, it may not still be able to support the App, depending on the phone model you are using.
Installation
[
]
Go to Settings -> Security -> Turn on Unknown Sources.
Download the DMM Webstore app here. Alternatively you can download the APK from here
Once installed, open the Webstore app, login into your DMM account and find KanColle Android.
Install and enjoy. English Guide
(Optional) Install KCAnotify for a viewer on Android. Please note that this app is not officially endorsed by DMM and if you have any queries it is best to ask the app developer instead.
No VPN required unless DMM is blocked by your ISP/government/etc.[1]
You can also scan this QR code to go straight to the above site: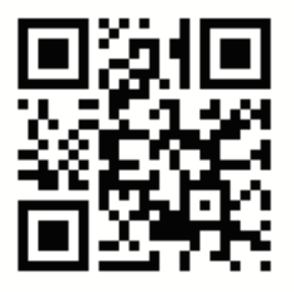 Common Messages
[
]
Screenshots of commonly seen messages. Read these carefully before you ask!
#
Picture
Summary
Note
01
[Notice] - BGM/Voice playback may disturb those around you.

(Option 1: Start)
(Option 2: Start with Audio OFF)

Note that Option 2 resets in-game volumes to 0. The next time you play, you will have to manually raise the volumes even if Option 1 is chosen.
02
There's a new version available. Install the update to continue.
Important: Make sure that DMM appstore is also updated to the latest version. Outdated appstore may prevent patches from installing properly.
03
Communication Error - Improving network connection and setting the Time Zone to Tokyo may help.
If you are getting this error after switching the Time Zone, try logging into the DMM webstore app with VPN connection. Start KanColleAndroid from within the webstore.


Once reaching the Title Screen, disconnect the vpn before hitting the Game Start button. Refer to the Troubleshooting section if problem persists.

04
Error - Make sure your network connection is stable and set the Time Zone to Tokyo.
Refer to above (#03)
05
Authentication Unsuccessful
Double check your username/password.


If your password has changed, try logging out of DMM webstore app then back in.[2]

06
System Error (pop-up bubble)
Try the steps in Troubleshooting first. If problem persists, try deleting DMM webstore then re-install it.[3]
From DMM webstore:
#
Picture
Summary
Note
01
Make sure your network connection is stable and please wait for a bit before retrying again.
通信環境をお確かめいただき、しばらく時間をおいてお試し下さい。
If you receive this message the moment you launch DMM webstore app, you may need try changing your DNS or use proxies.[4]
Troubleshooting
[
]
Make sure that you log out of the PC version before going further.
First identify the error messages listed in the previous section. Take the recommended action and see if it helps.
If the problem persists, try the following from top to bottom (if one item doesn't work, move to the next):
Try restarting your Android device.
Test whether the VPN is working (where applicable) by opening the Browser on your device. Verify if you are able to visit the Communities page without Regional Error.
Clear the cache at the start screen (bottom left icon).
Clear the KanColleAndroid App Data from your device's Settings/Apps menu.
Uninstall KanColleAndroid. Locate the Download folder of your device and delete all apk found in the folder. Restart and re-install KanColleAndroid.
If all else fails, make a post below with the following info:
What is the error? Provide a screenshot if it's not listed above.
What have you tried?
Which country are you in and which KC server are you on? (How is this relevant?)
Anything else worth mentioning.
Tips and Tricks
[
]
How to access Akashi Arsenal on Android:

From the home port screen, drag your finger from just outside the Factory button to the inside of that button, then let go. The Akashi Arsenal Button should show up. (See video for an example.)
From other screens, tap the clock at the bottom-left of the screen.

Instead of clicking the arrows at the bottom of the Equipment/Kanmusu Lists, swiping Left/Right around the page number will also bring up Previous/Next page.
The Equipment/Kanmusu List can also be viewed as a long vertical scrollable list by swiping the text area (in any direction).
FAQ
[
]
Do I have to start playing all over from scratch if I play on the Android version?
[
]
No. As mentioned above, the Browser Version and the Android Version will be synced to your DMM account, where you will be available to continue playing on your one main account on both versions.
Is the Android App safe to use? Will I get banned if I use it overseas?
[
]
No reports of Android users getting banned so far.
What about iOS?
[
]
According to a media report, a DMM staff had claimed that it's difficult to link the browser version's data with iOS apps, so even if they release an iOS app it would only be a separate version.
However, someone else had later asked the DMM staff the day after, and they had claimed the above response is not official. Some other DMM browser games do in fact have an iOS edition with shared data.
Note that currently there are some third party solutions that exists which could allow players to play KanColle on iOS, but using these tools may incur risks like account security or abnormal traffic against the game server which may result in the game administrators giving punishment against the related accounts.
Can I play the Android game outside Japan?
[
]
Yes.
I cannot log in with my Google+ Account
[
]
Log in with your DMM email/pass instead. KanColle Android app currently does not accept alternative log in methods.
I am a new TTK and I cannot register via Android
[
]
New registrations are now also accepted on KanColleAndroid as of Dec 9, 2016[5].
However, bear in mind that the Android version is relatively new compared to the Browser version and therefore lacks definitive methodologies in various areas (such as Troubleshooting).
It is thus recommended to sign up via the Browser version (and finish the 5 tutorials) before playing on KanColleAndroid.
I just registered on the browser but I'm still getting errors on Android
[
]
Make sure that you've selected a starter ship and completed the 5 tutorials on the browser version.
It has been reported[6] that failure to do so will trigger Message #04 (communication error) and prevent the user from reaching the Start Screen.
How do I take screenshots
[
]
To take screenshots of the game, press and hold the Power + Volume-Down buttons till you hear a sound effect (or flashes on some models).
For phones without volume control buttons, try holding the Power + Home buttons instead.
(KCAnotify only) I don't see translated messages for KanColle
[
]
Update both the app as well as database assets, do not update just the app itself.
Compatible Devices List by DMM[7]

[

]
In the following list, ◎ means devices that are recommended, and 〇 means devices that are compatible but some little things might work differently from expected.
All the devices listed below are devices that are confirmed to work. Devices not on the list are not tested and thus not guaranteed to work. (They might still work)
Note that since KanColle is a Japanese game, all the models listed below are Japanese model. Even if some of these models have international counterparts, they might still use different hardware and thus their compatibility could be different.
Last update time for the list: Late June, 2016.
Sony
◎ SO-01E Xperia AX
◎ SO-01F Xperia Z1
◎ SO-01G Xperia Z3
◎ SO-01H Xperia Z5
◎ SO-02D Xperia NX
◎ SO-02E Xperia Z
◎ SO-02F Xperia Z1 f
◎ SO-02G Xperia Z3 Compact
◎ SO-02H Xperia Z5 Compact
◎ SO-03E Xperia Tablet Z
◎ SO-03F Xperia Z2
◎ SO-03G Xperia Z4
◎ SO-03H Xperia Z5 Premium
◎ SO-04E Xperia A
〇 SO-04F Xperia A2
◎ SO-04G Xperia A4
◎ SO-05D Xperia SX
◎ SO-05F Xperia Z2 Tablet
◎ SO-05G Xperia Z4 Tablet
◎ SOT21 Xperia Z2 Tablet
◎ SOL22 Xperia UL
◎ SOL23 Xperia Z1
◎ SOL24 Xperia Z Ultra
◎ SOL25 Xperia ZL2
◎ SOL26 Xperia Z3
◎ SOV31 Xperia Z4
◎ SOT31 Xperia Z4 Tablet
◎ SOV32 Xperia Z5
◎ IS12S Xperia acro HD
◎ 401SO Xperia Z3
◎ 402SO Xperia Z4
◎ 501SO Xperia Z5
Xperia L
Sharp
〇 DM-01H Disney Mobile on docomo
◎ SH-01D AQUOS PHONE
◎ SH-01E AQUOS PHONE si
◎ SH-01F AQUOS PHONE ZETA
〇 SH-01G AQUOS ZETA
〇 SH-01H AQUOS ZETA
〇 SH-02F AQUOS PHONE EX
〇 SH-02H AQUOS Compact
〇 SH-03G AQUOS ZETA
◎ SH-04G AQUOS EVER
〇 SH-04F AQUOS ZETA
◎ SH-04H AQUOS ZETA
◎ SH-05G AQUOS PAD
〇 SH-06F AQUOS PAD
◎ SH-06E AQUOS PHONE ZETA
◎ SH-07E AQUOS PHONE si
◎ SH-08E AQUOS PAD
◎ SH-09D AQUOS PHONE ZETA
◎ SH-02G Disney Mobile on docomo
◎ SH-05F Disney Mobile on docomo
◎ SHL21 AQUOS PHONE SERIE
〇 SHL23 AQUOS PHONE SERIE
〇 SHL24 AQUOS PHONE SERIE
〇 SHL25 AQUOS SERIE
〇 SHV31 AQUOS SERIE mini
〇 SHV32 AQUOS SERIE
〇 SHV33 AQUOS SERIE mini
◎ SHV34 AQUOS SERIE
◎ SHT21 AQUOS PAD
◎ SHT22 AQUOS PAD
◎ ISW16SH AQUOS PHONE
◎ IS15SH AQUOS PHONE SL
◎ IS17SH AQUOS PHONE CL
◎ 104SH AQUOS PHONE
◎ 106SH AQUOS PHONE
◎ 203SH AQUOS PHONE Xx
◎ 205SH AQUOS PHONE ss
◎ 302SH AQUOS PHONE Xx
◎ 303SH AQUOS PHONE Xx mini
〇 304SH AQUOS Xx
〇 305SH AQUOS CRYSTAL
〇 402SH AQUOS CRYSTAL X
〇 403SH AQUOS CRYSTAL 2
〇 404SH AQUOS Xx
〇 503SH AQUOS Xx2 mini
◎ 506SH AQUOS Xx3
◎ DM014SH Disney Mobile on SoftBank
〇 DMM SH-M02
Samsung
〇 SC-01F GALAXY Note 3
◎ SC-01G GALAXY Note Egde
〇 SC-01H Galaxy Active neo
〇 SC-02C GALAXY SII
◎ SC-02D GALAXY Tab 7.0 Plus
◎ SC-02E GALAXY NoteII
〇 SC-02F GALAXY J
〇 SC-02G GALAXY S5 ACTIVE
〇 SC-02H Galaxy S7 edge
◎ SC-03E GALAXY SIIIα
◎ SC-03G GALAXY Tab S 8.4
〇 SC-04E GALAXY S4
◎ SC-04D GALAXY nexus
〇 SC-04F GALAXY S5
〇 SC-04G Galaxy S6 edge
〇 SC-05G Galaxy S6
◎ SC-06D GALAXY SIII
〇 ISW11SC GALAXY SII
◎ SCT21 GALAXY Tab S
〇 SCV32 Galaxy A8
〇 SCL22 GALAXY Note 3
〇 SCL23 GALAXY S5
〇 SCL24 GALAXY Note Edge
〇 SCV31 Galaxy S6 edge
〇 SCV33 Galaxy S7 edge
◎ 403SC GALAXY Tab4
Fujitsu
◎ F-01F ARROWS NX
◎ F-01H arrows Fit
◎ F-02F ARROWS Tab
◎ F-02G ARROWS NX
◎ F-02H arrows NX
◎ F-03E ARROWS Kiss
◎ F-03G ARROWS Tab
◎ F-04G ARROWS NX
◎ F-05F ARROWS NX
◎ F-06E ARROWS NX
◎ F-08D Disney Mobile on docomo
〇 F-10D ARROWS X
◎ F-11D ARROWS Me
◎ F-12D Rakuraku Smartphone
◎ ISW11F ARROWS Z
◎ ISW13F ARROWS Z
〇 FJL22 ARROWS Z
◎ FJT21 ARROWS Tab
◎ 101F ARROWS A
〇 301F ARROWS A
Toshiba
LG
◎ L-01F G2
◎ L-02D PRADA phone
◎ L-04E Optimus G pro
◎ L-05E Optimus it
〇 L-06D Optimus Vu
◎ DM-01G Disney Mobile on docomo
◎ IS11LG Optimus X
◎ LGL22 isai
◎ LGL23 G Flex
〇 LGL24 isai FL
◎ LGV10
◎ LGV31 isai VL
◎ LGV32 isai vivid
Huawei
◎ HW-03E Asecend D2 [sic.]
◎ d-01G docomo dtab
◎ d-01H dtab
◎ d-02H dtab Compact
◎ HWT31 Qua tab 02
〇 201HW STREAM
〇 Y!mobile 503HW LUMIERE
◎ DMM Ascend G620S
◎ DMM Ascend Mate7
◎ DMM Huawei GR5
◎ DMM P8lite
◎ DMM HUAWEI Y6
NEC
〇 N-05E MEDIAS W
◎ N-06D MEDIAS Tab
◎ N-06E MEDIAS X
◎ N-07D MEDIAS X
Panasonic
◎ P-02E ELUGA X
◎ P-02D LUMIX Phone
〇 P-03E ELUGA P
◎ P-07D ELUGA Power
◎ P-08D ELUGA LiVe
Kyocera
〇 ISW12K URBANO PROGRESSO
〇 KYY21 URBANO L01
〇 KYY22 URBANO L02
〇 KYY23 URBANO L03
〇 KYY24 TORQUE G01
〇 KYV31 URBANO V01
〇 KYV32 BASIO
〇 KYV33 INFOBAR A03
〇 KYV34 URBANO V02
〇 KYV35 TORQUE G02
〇 KYV36 DIGNO rafre
〇 KYV37 Qua phone
〇 KYL21 DIGNO S
〇 KYL22 DIGNO M
◎ KYT31 Qua tab 01
〇 404KC DIGNO U
HTC
◎ ISW13HT HTC J
◎ HTL21 HTC J butterfly
〇 HTL22 HTC J One
◎ HTL23 HTC J butterfly
〇 HTV31 HTC J butterfly
◎ HTV32 HTC 10
◎ INFOBAR A02
ASUS
◎ Y!mobile ME173 MeMO Pad HD 7
◎ Y!mobile ME174 MeMO Pad HD 7
◎ AST21 ASUS MeMo Pad 8
〇 Zenfone Zenfone2
◎ Zenfone Zenfone5
◎ DMM Zenfone GO
Motorola
Acer
Google
〇 Nexus Nexus 5
〇 Nexus Nexus 5X
◎ Nexus Nexus 6
◎ Nexus Nexus 6P
◎ Nexus Nexus 7(2012)
◎ Nexus Nexus 7(2013)
〇 Nexus Nexus 9
◎ Nexus Nexus 10
Unofficial tested devices
[
]
Add Player-tested result to this link: KanColle Android/Device Report
Trivia
[
]
Shiratsuyu got a special CG to celebrate the release of Kancolle Android beta version.
Citation
[
]