Info
Basic
Inazuma

Akatsuki Class Destroyer

Statistics
HP

15 (17)

Firepower
10 (29)
Armor
6 (19)
Torpedo
27 (69)
Evasion
42 (

79

)
AA
12 (39)
Aircraft
0
ASW
20 (

49

)
Speed
Fast
LOS
5 (

19

)
Range
Short
Luck
10 (49)
Resource Consumption
Fuel
15
Ammo
20
Build Time
Slots
00:20:00 (Normal)
2
Stock Equipment
Space
12.7cm Twin Gun Mount
0
- Unequipped -
0
- Locked -
-
- Locked -
-
Upgrade
Inazuma Kai

Akatsuki Class Destroyer

Statistics
HP

30 (32)

Firepower
12 (49)
Armor
13 (49)
Torpedo
28 (79)
Evasion

45

(

89

)
AA
15 (49)
Aircraft
0
ASW

24

(

59

)
Speed
Fast
LOS

7

(

39

)
Range
Short
Luck
12 (59)
Resource Consumption
Fuel
15
Ammo
20
Remodel Level
Slots
Level 20
3
Stock Equipment
Space
61cm Triple Torpedo Mount
0
Type 94 Depth Charge Projector
0
- Unequipped -
0
- Locked -
-
Quotes
Event
Japanese
English
Note
Introduction


電です。どうか、よろしくお願いいたします。

I'm Inazuma. Pleased to meet you.
Library Intro

スラバヤ沖海戦で撃沈した敵艦の乗員の救助に努めた後、


キスカ、ソロモン、ニューギニア、アッツ島など、各戦域を転戦しました…
頑張ったの…です…。

After helping to save the crew of the enemy ship sunk at Surabaya, I fought at Kiska, Solomon, New Guinea and Attu Island one after the other...


I did my best...

Secretary(1)


司令官さん、そのぅ…誰かと間違えてないですか?

Commander, um... you aren't mistaking me for someone else are you?
She's referring to Ikazuchi.
Secretary(2)


なるべくなら、戦いたくはないですね。

I'd prefer not to fight as much as possible.
Secretary(3)


はわわわ、びっくりしたのです!

Hawawawa, you surprised me!
Secretary(idle)


こうやって、なにもない、平和の時間もとても好きなのです。 (改)

I really like time of peace like this too, when nothing is happening. (Kai)
 ⇧ for Kai form, plays Base form's Secretary Married line when sparkled
Secretary(Married)


司令官、いつもお疲れ、なのです。肩を揉んであげるのです。

Commander, thanks for the hard work nanodesu. I'll give you a shoulder massage nanodesu.

Wedding


司令官、まだここにいたんですね。へっ?待っててくれたの?・・・ありがとう。

Commander, you're still here, huh. Eh? You were waiting for me?... Thank you.

Show player's score


お手紙が届いたのです。

A letter has arrived.
Joining a fleet


電の本気を見るのです!

See how Inazuma is when she's serious!
Equipment(1)


ちょっと体が軽くなったみたい。

It looks like my body has become a bit lighter.
Equipment(2)

あの…、あ、あのっ!
……ありがとう。
Um... e-excuse me! ...Thank you.
Equipment(3)


問題…ないですか?

There are no problems... right?
 ⇧ shared with expedition selection, resource collection, instant repair and development
Supply


ちょっと体が軽くなったみたい。



ありがとう、なのです! (改)

It looks like my body has become a bit lighter.



Thank you, nanodesu! (Kai)

Docking
≤ minor damage


ちょっと直してくるのです。

I'll go fix myself up a little.
Docking
≥ moderate damage


衝突とか、気をつけますね。

Beware of ramming.
Might be a reference to the fact that she collided twice with friendly ships (Miyuki and Sendai Maru).
Docking
complete


修理が完了したのです

The repairing has completed.
Ship construction


建造が終了したのです。

The construction is complete.
Return from sortie


艦隊がお戻りみたいです

It looks like the fleet has returned.
Start a sortie


第一艦隊、第一水雷戦隊、出撃です

1st Fleet, 1st Torpedo Squadron, sortie.
rough translation, it's a reference to Inazuma's position in the navy at start of the pacific war.
Battle start


なのです!

Nanodesu!
Inazuma's catchphrase. Carries very little grammatical meaning and doesn't translate well.
Air battle

Attack


魚雷装填です

Torpedoes loaded!
Night battle

沈んだ敵も、


できれば助けたいのです

If possible, I'd like to save those


sunken enemy ships as well...

Probably refers to Inazuma's rescue of 527 American and British sailors after the 2nd Battle of the Java Sea.
Night attack


命中させちゃいます!

I'm going to hit you!
 ⇧ shared with day/night special attacks, support expedition team arrival
MVP


戦争には勝ちたいけど、命は助けたいって…おかしいですか?

I want to win the war, but I also want to save lives... Is that weird?
See Night battle note
Minor damaged(1)


はりゃあーっ?!

Funyaaaa?!
Minor damaged(2)


ふあーーっ!?

Whoa!
≥Moderately damaged


はわわ!?恥ずかしいよお…

Ouch... this is so embarrassing...
Sunk


次に生まれてくる時は・・・平和な世界だといいな・・・

I wish I'll be reborn... into a more peaceful world.
Seasonal Quotes
Event
Japanese
English
Note
Fall 2015


あ、あの…司令官…はい…。

U-um... Commander... Yes...
Valentines Day 2016


あの・・・司令官さん、電の本気のチョコ、差し上げるのです!こちらなのです!

Umm... Commander-san, Inazuma's serious chocolate, please have some of it! Over here!
In Japan, the chocolate given from girls to boys in Valentine's Day can be further categorized into "giri-choko"(obligatory chocolate given to everyone) and "honme-choko" (serious chocolate given to the real loved one). In here, "honme" is changed into "honki" in order to link with Inazuma's usual quotes.
White Day 2016


はわわ~司令官さん、チョコのお返し…いただけるのですか?あの…ありがとう、なのです。

Hawawa~ Commander-san, this return gift for the chocolate... can I really accept it? Um... thank you, nanodesu.
Spring 2016


了解なのです!雷ちゃんとお花見の場所を取りに行くのです!第二小隊先行します!

Understood! Together with Ikazuchi-chan we'll secure a place for flower viewing! Second platoon moving out!
Third Anniversary 2016


はわわ、司令官さん、三周年なのです。とってもすごいのです、お祝いなのです。なのです!

Hawawa! Commander-san, it's the third anniversary nanodesu. It's very amazing; it's a celebration nanodesu. Nanodesu!
Rainy Season 2016


てるてる坊主を作るのです。こうやって、ここをこう。できたのです、かわいいのです!

I'm making teru-teru bouzu. You hold it like this, then do this, and... It's done! It's so cute!
Mid-Summer 2016


雷ちゃん、暁ちゃんの砂のお城邪魔しちゃダメなのです。あ、喧嘩はダメなのですー!

Ikazuchi-chan, you shouldn't disturb Akatsuki-chan's sandcastle. Ah, please don't fight with each other!
For new seasonal lines that may be missing here, check Seasonal
Character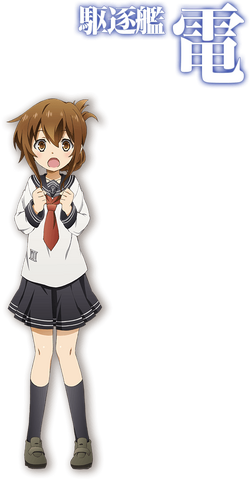 Appearance
Personality
Trivia
Quests
See Also
Community content is available under
CC-BY-SA
unless otherwise noted.