Basic
Ikazuchi

Akatsuki Class Destroyer

Statistics
HP

15 (17)

Firepower
10 (29)
Armor
6 (19)
Torpedo
27 (69)
Evasion
42 (

79

)
AA
12 (39)
Aircraft
0
ASW
20 (

49

)
Speed
Fast
LOS
5 (

19

)
Range
Short
Luck
10 (49)
Resource Consumption
Fuel
15
Ammo
20
Build Time
Slots
00:20:00 (Normal)
2
Stock Equipment
Space
12.7cm Twin Gun Mount
0
- Unequipped -
0
- Locked -
-
- Locked -
-
Upgrade
Ikazuchi Kai

Akatsuki Class Destroyer

Statistics
HP

30 (32)

Firepower
12 (49)
Armor
13 (49)
Torpedo
28 (79)
Evasion

45

(

89

)
AA
15 (49)
Aircraft
0
ASW

24

(

59

)
Speed
Fast
LOS

7

(

39

)
Range
Short
Luck
12 (59)
Resource Consumption
Fuel
15
Ammo
20
Remodel Level
Slots
Level 20
3
Stock Equipment
Space
61cm Triple Torpedo Mount
0
Type 94 Depth Charge Projector
0
- Unequipped -
0
- Locked -
-
​Quotes
[
]
Event
Japanese
English
Note
Introduction

雷よ!かみなりじゃないわ!そこのとこもよろしく頼むわね!

I'm Ikazuchi! Not 'Kaminari'! Please take care of that part too, okay!
雷 is normally read as kaminari (thunder). She's saying to remember her name well.
Library
スラバヤ沖海戦では駆逐艦電と一緒に協力して、沈没した敵艦隊の生存者の救助に当たったのよ。
ただ強いだけじゃ、だめだと思うの。
ね、司令官!
Together with my fellow destroyer Inazuma at the Battle of Surabaya, we rescued the survivors of the sunk enemy's ships.
I think that simply being strong is not good enough.
Don't you agree, Commander!?
On March 2, 1942, Ikazuchi, under the command of Commander Shunsaku Kudō at the time, rescued 442 survivors consisting of British and American survivors whose ships were sunk from an earlier battle.
Secretary 1

元気ないわね。そんなんじゃダメよ

You look down... That's no good, you know?
Secretary 2

司令官、私が居るじゃない!

Commander, I'm here for you!
Secretary 3

そうそう、もーっと私に頼って良いのよ

Yeah, you can rely on me all you want!
Idle (Kai)

えっと、特にやることはないの?んー…… もっと私に頼っていいのよ?

Oh, Isn't there anything I have to do? Well…… you may count on me more!
Secretary Married

司令官、あなたは大丈夫。だって、私が側にいるんだから!

Commander, you're alright. Of course, it's because I'm beside you!

Wedding

ねえ司令官?私無しじゃ、もう艦隊は成り立たないでしょ?ね?ね?

Hey Commander? If I wasn't here, there wouldn't be a fleet, right? Yeah?

Looking At Scores

司令官に手紙が来たわ。見ても良い?

A letter's arrived for you, Commander. Can I see it?
Joining A Fleet

はーい司令官、いっきますよー!

Yes, commander! Here I go!
Equipment 1

じゃーん!パワーアップしたわ

Ta-dah! Power up!
Equipment 2

改良された私の魅力はどう?へ?気付かなかったの?ひどーい!

How's the improved me's charm? Eh? You didn't notice? Meanie~!
Equipment 3

助けるわ!

I'm going to help!
 ⇧ shared with expedition selection, resource collection, instant repair and development
Supply

じゃーん!パワーアップしたわ!

Ta-dah! Power up!
Kai

もっと 補給しても良いのよ!

It's fine for you to resupply me more!
Docking Minor

ちょっと直してきまーす

Taking a quick break~!
Docking Major

修理、ちょっと時間かかるかも。ごめんねっ

Look's like repairs will take a while, sorry...
Docking Complete

修理から戻ってきた艦があるわ

The ship gotten back from repairing is here.
Construction

新しい艦ができたわ。早速実戦投入しましょ

A new ship is done. Let's get her to the front quickly.
Returning From Sortie

艦隊が帰投したわ、お疲れ様

The fleet's back, thanks for the hard work!
Starting A Sortie

雷、司令官のために出撃しちゃうねっ

Ikazuchi will fight for the Commander's sake!
Battle Start

ってー!

Fiiiire!
Attack

そんな攻撃、当たんないわよ?

You think an attack like that's gonna hit?
 ⇧ shared with day/night special attacks, support expedition team arrival
Night Battle

ネズミ輸送任務より、やっぱ戦闘よね!

Not saying the Tokyo Express is bad, but combat is great!
The Tokyo Express was the allies name for the night-time resupply missions in the South Pacific; it was mainly done by destroyers (for speed) and later subs (for stealth)
Night Attack

逃げるなら今のうちだよ

If you're gonna run, it's now or never!
MVP

この雷様に敵うとでも思ってんのかしら?ねぇ司令官?あれ?聞いてる?

Did they think they could challenge the mighty Ikazuchi? Right, commander? Huh? Are you listening?
Minor Damage 1

あう!どこから!?

Aaa! Where'd it come from!?
Minor Damage 2

いったぁ~い!

Owwww~!
Major Damage

なによもう、雷は大丈夫なんだから!

What, already! Ikazuchi will still be okay!
Sunk

司令官…どこ…?もう声が聞こえないわ…

Commander...where are you...? I can't hear your voice anymore...

Perhaps alluding to where in the kilometer depths her wreckage sits right now.
Seasonal Quotes
[
]
Event
Japanese
English
Note
Fall 2015


雷、司令官のために、もっともっと働いちゃうね?う…嬉しいの?

Ikazuchi is going to work a lot harder for the commander, yeah?...Eh, you're happy?
Valentines Day 2016


じゃーん!雷の手作りチョコを用意したわ!司令官、よーく味わって食べるのよ?はい!

Ta-dah! I've prepared some of Ikazuchi's handmade chocolate! Commander, savor it properly, okay? Here!
Valentines Day 2016


司令官、雷手作りチョコ、どうだった?…美味しかった?じゃあ、毎月作っても良いのよ!

Commander, how was Ikazuchi's handmade chocolate? ...It was delicious? Well then, it's fine for me to make it every month, you know!
Secretary 2
White Day 2016


これ、チョコのお返し?じゃー、雷、司令官のためにもっともーっと働いちゃうね!

This, is the return gift for the chocolate? Then, Ikazuchi shall work harder and haaarder for the Commander's sake, kay!
Spring 2016


お花見かぁ!いいわねぇ!私と電で、先に行って場所を確保しておくわね!任せておいて!

So it's flower viewing! Great, isn't it!? Inazuma and I will go ahead and secure us a place! Leave it to us!
Third Anniversary 2016


三周年よ、司令官!これからも、もっともっともーっと私に頼っていいのよ!

It's the third anniversary, Commander! It's fine for you to rely on me more and more and mooore from now on too, you know!
Rainy Season 2016


電、てるてる坊主作ってるの? かわいいわねぇ!作り方教えて…。成る程、解かったわ。

Inazuma, you're making a teru-teru bouzu? That looks cute! Teach me how to do it. I see... Got it.
Mid-Summer 2016


暁、そんな壁じゃ波にすぐやられちゃうわよ? そんなんじゃダメよ! あ、ほら。

Akatsuki, that kind of wall you built can be easily crushed by the waves, you know? That's no good at all! Ah, told ya.
For new seasonal lines that may be missing here, check Seasonal
Character
[
]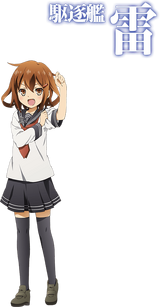 Appearance
[
]
Personality
[
]
Trivia
[
]
Quests
[
]
☑ Blur NSFW CG ☒ Blur NSFW CG
☑ Blur other damaged CG ☒ Blur other damaged CG
See Also