Information Update
New Game Mechanics
It will be possible to sortie a special kind of fleet consisting of 7 ships, using the 3rd Fleet.[2]

Only available for Event Maps that allows it and cannot be used in Normal Maps.
Cannot use it for Expedition or Exercises (PvP).
Available upon clearing Quest F64.
When equipped on a Flagship of the Fleet, it will allow a single ship who goes into Heavy Damage to retreat from the fleet, without any other Escort Ship.

The Damage done towards the Retreating Ship may increase. However it will be impossible for the Retreating Ship to sink.
Vanguard Formation (警戒陣)
A new 6th Formation (Only available during Event Period).
Ships in 4th to 7th slot of the fleet become 'Vanguards', protecting the 'Main Fleet' in 1st to 3rd slot.

'Vanguards' are targeted more often than 'Main Fleet'.
'Vanguards' gain evasion boost, particularly effective for DDs.
'Main Fleet' suffer significant loss in damage and accuracy against enemy ships.
'Vanguards' retain average damage and accuracy against enemy ships.
Opening and closing torpedo by all ships have average damage and accuracy.

Retains its special capabilities in both Day & Night Battles.
Recommended to be used for the following:

Pre-Boss Regular Surface Battle Nodes.
Submarine Nodes (High capability to evade Torpedoes)
Pre-Boss Night Battle Nodes
ASW-based LBAS
Bombers equipped on Land Bases that have 7 or higher ASW stat will attack submarines.
Aerial Support now includes a new type of support, ASW Support. It is triggered by having a CVL and multiple DD/DEs in a Support Expedition Fleet. The fleet composition requirements for Support Expeditions have been changed.[3]
2 BB 2 DD 2 CV will no longer result in Support Shelling Expedition and will result in Aerial Support instead.

Recommended compositions to trigger Support Shelling Expedition now are:
Each map in this event has four (4) difficulty levels (a.k.a. operation ranks) the player can choose from:
The operation rank affects enemy patterns, boss health and strength, the number of times the player has to sink the boss in order to clear the map and the drop rates of ships. Different ranks reward different medals, pieces of equipment and/or materials upon clearing a map. The higher the operation rank, the better the reward.
However, new ship rewards are available on all difficulty levels, and you only have to clear the final event map on Hard to get the exclusive First-class medal.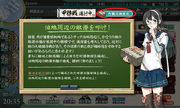 You can choose the difficulty level for each individual map separately. However, you will NOT be able to select Hard for a map if you cleared the previous map on Casual/Easy. You must clear the previous map at least on Medium/Normal.
【NOT POSSIBLE】

Casual

/

Easy

>

Hard

【POSSIBLE】

(Medium/Normal)

/

Hard

>

Hard

【POSSIBLE】

Casual

/

Easy

/

(Medium/Normal)

/

Hard

>

(Medium/Normal)

【POSSIBLE】

Casual

/

Easy

/

(Medium/Normal)

/

Hard

>

Casual

/

Easy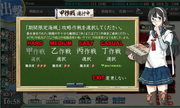 It is also possible to change the difficulty level afterwards, however:
If you drop to a lower difficulty (e.g. from Hard to Normal/Easy), the current HP/TP bar value (the one you have the moment you drop down) will increase by 25% of the new maximum and you will retain ALL unlocking/phases done on the previous difficulty level.
However, if you change to a higher difficulty (e.g. from Easy to Hard), the boss's HP/TP bar will be reset upon doing so and ALL unlocking/debuffs/phases will be reset as well. In short, you will lose your entire map progress!
Once the map is cleared (boss HP bar is depleted, boss is defeated, and the HP bar is no longer visible in the map):
You CAN NO LONGER re-adjust the difficulty level, but can still farm the map on the difficulty you have chosen to clear the map with.
The enemy patterns revert back to pre-final patterns.
New
Ships
Equipment
Abyssal
Units
Equipment
Maps
E-1
E-2
E-3
E-4
Green Tag
Green Tag
Grey Tag
Yellow Tag
Single Fleet

Single Fleet

Combined Fleet
Combined Fleet


Single Fleet

HP Gauge
TP Gauge

HP

+

TP

+

HP

Gauge
HP + HP Gauge
LBAS
LBAS
LBAS
LBAS
Click on image of each map to jump to respective subpage directly if you don't want to use tab
HP/TP Bar Scaling
The amount of HP (or TP) required to clear a map usually varies depending on an Admiral's HQ Level (this was first observed during Summer 2015 Event). The higher the HQ Level is, the more kills (or TP) may be required to complete a map.
Easy[Edit]
E1
E2
E3
E4
HP
TP
HP
1 → 34
420
330
35 → 79
80 → 89
90 → 99
600
470
1175
100 → 109
630
500
1200
110 → 120
660
530
1225
Medium[Edit]
E1
E2
E3
E4
HP
TP
HP
35 → 79
440
370
80 → 89
90 → 99
100 → 109
700
540
110 → 120
Hard[Edit]
E1
E2
E3
E4
HP
TP
HP
80 → 89
590
400
90 → 99
100 → 109
960
650
110 → 120
1020
700
Quests
ID
Requirements
Rewards
Note
Le1A1

「西村艦隊」完全編成、出撃準備!


Fully Formed Nishimura Fleet, Prepare to Sortie!
Have Yamashiro, Fusou, Mogami, Michishio, Asagumo, Yamagumo and Shigure in the third fleet.


※ On completion plays Play

300 / 300 / 0 / 0
Reinforcement Expansion X 1
choice between
Skilled Lookouts
or
Furniture Fairy X 1
or
X 3
Requires: A82, ??
Le1B1

「捷一号作戦」兵站補給線を確保せよ!


Secure the Supply Line Logistics for Operation Sho-Ichi-Go!
Sortie to E-2 and obtain 2 A-rank or better victories at the boss node.
1500 / 1500 / 0 / 0
"Mamiya" x 1,
choice between
Type 13 Air Radar X 2
or
Type 22 Surface Radar X 2
or
Action Report X 1
F64

「遊撃部隊」艦隊司令部の創設


The Establishment of the Striking Force's Fleet Command Facility
Have your secretary equipped with a Fleet Command Facility in her first slot. Prepare 10 Development Materials, 2000 Steel and 2 Action Reports. Scrap 3 Radars.
※Equipment must be unlocked.
※ Consumes the equipment.
0 / 300 / 0 / 0
Striking Force Fleet Command Facility
Voice Lines
Play on event completion.
Ship Name
Audio
Japanese
English
Notes
Yamashiro
Fusou
Shigure
山城 「ね、姉様!第一遊撃部隊第三部隊二戦隊は、スリガオ海峡を…突破しました!うふふ、やったわ!」

扶桑 「山城、私達ついにスリガオを越えたのよ! あの海峡を…越えたのよ。提督、ありがとう!」

時雨 「扶桑、山城、最上、そして…満潮、朝雲、山雲も…みんな…本当に…ありがとう。よかった。 提督、止まない雨は…ない…ね? ありが…とう。」

Yamashiro: "F-Fusou! Force C of the 1st Striking Force, 2nd Squadron, has... traversed the Surigao Strait! Ehehe... we did it!"

Fusou: " Yamashiro, we passed through Surigao! We finally... passed through that strait. Thank you, admiral!"

Shigure: "Fusou, Yamashiro, Mogami... and of course Michishio, Asagumo, Yamagumo... everyone... just... thank you. I'm so glad... Admiral, there really is... no rain that doesn't stop... right? Thank... you."

Fusou
Yamashiro
扶桑、山城 「西村艦隊、成し遂げました! 提督、ありがとう!」
Fusou and Yamashiro: "Nishimura Fleet, mission accomplished! Thank you, admiral!"



Quick Notes
References
Community content is available under
CC-BY-SA
unless otherwise noted.