[Expand all] [Collapse all] [Toggle all]
Information Update
The Extra Operation maps (E-4 and E-5) will be added on November 19th, 22:30 Tokyo time (GMT+9). [1] [2]
E-5 Hard Mode has its own separate ship locking tag, therefore preventing you from bringing any ships you've used in the preceding event maps.
E-5 Easy & Normal Mode allow bringing all ships regardless of tags.
Each map in this event has four (4) difficulty levels (a.k.a. operation ranks) the player can choose from:
The operation rank affects enemy patterns, boss health and strength, the number of times the player has to sink the boss in order to clear the map and the drop rates of ships. Different ranks reward different medals, pieces of equipment and/or materials upon clearing a map. The higher the operation rank, the better the reward.
However, new ship rewards are available on all difficulty levels, and you only have to clear the final event map on Hard to get the exclusive First-class medal.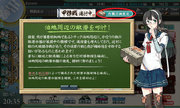 You can choose the difficulty level for each individual map separately. However, you will NOT be able to select Hard for a map if you cleared the previous map on Casual/Easy. You must clear the previous map at least on Medium/Normal.
【NOT POSSIBLE】

Casual

/

Easy

>

Hard

【POSSIBLE】

(Medium/Normal)

/

Hard

>

Hard

【POSSIBLE】

Casual

/

Easy

/

(Medium/Normal)

/

Hard

>

(Medium/Normal)

【POSSIBLE】

Casual

/

Easy

/

(Medium/Normal)

/

Hard

>

Casual

/

Easy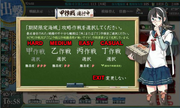 It is also possible to change the difficulty level afterwards, however:
If you drop to a lower difficulty (e.g. from Hard to Normal/Easy), the current HP/TP bar value (the one you have the moment you drop down) will increase by 25% of the new maximum and you will retain ALL unlocking/phases done on the previous difficulty level.
However, if you change to a higher difficulty (e.g. from Easy to Hard), the boss's HP/TP bar will be reset upon doing so and ALL unlocking/debuffs/phases will be reset as well. In short, you will lose your entire map progress!
Once the map is cleared (boss HP bar is depleted, boss is defeated, and the HP bar is no longer visible in the map):
You CAN NO LONGER re-adjust the difficulty level, but can still farm the map on the difficulty you have chosen to clear the map with.
The enemy patterns revert back to pre-final patterns.
New
Ships
Equipment
Abyssal
Units
Equipment
Maps
E-1

E-2

E-3

E-4

E

-5

Blue Tag

Green Tag

Green Tag

Yellow Tag

Orange Tag (Hard)


No Tag (Easy and Medium)
Single
Single
Combined
Single
Combined

TP Gauge

Red Gauge

Red Gauge

TP Gauge




Red Gauge

Red Gauge
Quick Notes
Event Drops
References
Community content is available under
CC-BY-SA
unless otherwise noted.