Several new gameplay mechanics are implemented in each new Event, some of which are Event-exclusive. These mechanics may change gameplay drastically, and the event-exclusive ones are described here.
Event-Exclusive Mechanics
Edit
Combined Fleet
Edit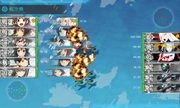 See main article: Combined Fleet

The Combined Fleet system was first introduced during the Summer 2014 Event, and has been present since as an event-exclusive mechanic. In a Combined Fleet, you'll have to organize and sortie the first two fleets together, allowing for up to 12 ships (instead of the usual 6) to be sortied out at once. Combined fleets can only be sortied to maps that require it.
Ship Locking
Edit
Introduced in the Summer 2014 Event, this mechanic locks ships that were sortied out to specific event maps, making them unable to participate in other ship-locked maps.

A ship girl will receive her ship lock as soon as she sorties to an event map with shiplocks. Afterwards, it's impossible to remove the lock until the end of the event. Remodeling or marrying a ship will NOT remove the shiplock, so be careful with who you sortie to event maps. However, locks are applied on a ship ID basis, meaning that duplicates of the same ship will not have the lock applied to them.
It is important to note that while shiplocks are applied regardless of the difficulty one chooses, they are generally only enforced on Medium and Hard difficulty. Outside of some event-specific branching rules, players on Casual and Easy difficulty are free to sortie ships with shiplock tags to any event map, regardless of the lock a map requires. However, as said before, ships will always be given a shiplock tag upon sortieing to an event map, and said tag cannot be overriden or removed via any means, so sortieing to event maps on lower difficulties will still lock ships out of event maps on higher difficulties. Always be careful about who is sortied to an event map.
Here's a shiplocking example using the Winter 2019 Event:
The number and scope of shiplocks varies from event to event, so checking the current event page for lock information before starting is always a good idea. This is also a reason to keep multiple ships per ship-type prepared. If you lack in certain ship-types, you may not be able to fulfill branching routes on later maps, or may be forced to use a sub-optimal composition.
Support expeditions do not check for ship locks, with the exception of the Summer 2014 Event.
Difficulty Selection
Edit
Each map in this event has four (4) difficulty levels (a.k.a. operation ranks) the player can choose from:
The operation rank affects enemy patterns, boss health and strength, the number of times the player has to sink the boss in order to clear the map and the drop rates of ships. Different ranks reward different medals, pieces of equipment and/or materials upon clearing a map. The higher the operation rank, the better the reward.
However, new ship rewards are available on all difficulty levels, and you only have to clear the final event map on Hard to get the exclusive First-class medal.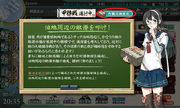 You can choose the difficulty level for each individual map separately. However, you will NOT be able to select Hard for a map if you cleared the previous map on Casual/Easy. You must clear the previous map at least on Medium/Normal.
【NOT POSSIBLE】

Casual

/

Easy

>

Hard

【POSSIBLE】

(Medium/Normal)

/

Hard

>

Hard

【POSSIBLE】

Casual

/

Easy

/

(Medium/Normal)

/

Hard

>

(Medium/Normal)

【POSSIBLE】

Casual

/

Easy

/

(Medium/Normal)

/

Hard

>

Casual

/

Easy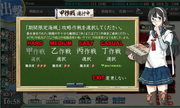 It is also possible to change the difficulty level afterwards, however:
If you drop to a lower difficulty (e.g. from Hard to Normal/Easy), the current HP/TP bar value (the one you have the moment you drop down) will increase by 25% of the new maximum and you will retain ALL unlocking/phases done on the previous difficulty level.
However, if you change to a higher difficulty (e.g. from Easy to Hard), the boss's HP/TP bar will be reset upon doing so and ALL unlocking/debuffs/phases will be reset as well. In short, you will lose your entire map progress!
Once the map is cleared (boss HP bar is depleted, boss is defeated, and the HP bar is no longer visible in the map):
You CAN NO LONGER re-adjust the difficulty level, but can still farm the map on the difficulty you have chosen to clear the map with.
The enemy patterns revert back to pre-final patterns.
Map-specific Mechanics
Edit
Striking Force Fleet
Edit
First implemented with the Fall 2017 Event, a Striking Force allows admirals to, when enabled, use the 3rd Fleet, to sortie a 7-ship fleet. Currently, this mechanic has been exclusive to the Leyte Gulf events (Fall 2017 Event and Winter 2018 Event).
Vanguard Formation (警戒陣) - Event Exclusive
Edit
Fall 2017 Event
for the first time along with the Strike Force mechanic, the vanguard is a defensive formation which affects the ships based on how they are positioned in the fleet.
Vanguard Formation is available only during event period. However, it is usable on all maps during that period.
Friend Fleet
Edit
See main article: Friend Fleet

Implemented in the Winter 2018 Event, a Friend Fleet is a NPC support fleet that appears during the Night Battle phase of a boss battle in certain event maps to support player fleets. Currently, all fleets implemented are specified by the game developers, but the system is said to be a trial version of a future system which will involve other player's fleets.
Other Common Mechanics
Edit
LoS Check
Edit
See main article: Line of Sight

Starting from the Spring 2014 Event, LoS (
)-based checks have been implemented throughout various maps, which require players to exceed a given LoS threshold in order to proceed to a given node.
Support Expedition
Edit
See main article: Support Expedition


Land Base Aerial Support (LBAS)
Edit
See main article: Land Base Aerial Support


Node-specific Details
Edit
References
Edit
Community content is available under
CC-BY-SA
unless otherwise noted.