Combat Ration

Combat Ration

Effects: Boosts morale of equipping ship and adjacent ships randomly when entering battle

Refittable Class
Coastal Defense Ship
Destroyer
Light Cruiser
Torpedo Cruiser
Heavy Cruiser
Training Cruiser
Aviation Cruiser
Fast Battleship
Battleship
Aviation Battleship
Light Carrier
Standard Aircraft Carrier
Armored Carrier
Seaplane Tender
Submarine
Aircraft Carrying Submarine
Submarine Tender
Fleet Oiler
Repair Ship
Amphibious Assault Ship
Introduction
腹が減ってはなんとやら……戦闘前にしっかりと腹ごしらえをしておきましょう。
海の上で食べる握り飯の味は格別です!
(発動すると消滅します)
You can't fight on an empty whatever......Let's make sure to fill our stomachs before battle.
The flavour of rice balls eaten at sea is something special!
(Is consumed on activation)
Notes
Unbuildable
Category Ships with Combat Ration as stock equipment not found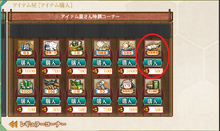 Purchasable off the cash shop for 300 DMM points for 3.
Quest C8 reward.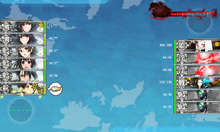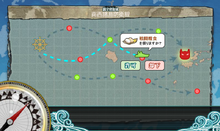 The Combat Rations are a new type of item that can be outfitted in equipment slots.
Can be equipped in Reinforcement Expansion slots as well.
In the event of three or more pre boss nodes in a sortie, the item will randomly be consumed before the battle starts.

The chance of Combat Rations being consumed randomly is as follows:


Where L is the ship's Luck Stat and N is the number of battle nodes passed.
Upon activation, any food items on the fleet will be consumed.
The activating ship will randomly gain 6-10 morale, increased to 20-28 morale if also equipped with Canned Saury.
Adjacent ships will randomly gain 2-4 morale, increased to 16-20 morale if Canned Saury was also used.

After the 1 April 2016 update, this item can be used entering the boss node (regardless of current ship morale).
Improvement
Lua error in package.lua at line 80: module 'Module:Collection/EnemyShips' not found.
See also