Info
Basic

Asagumo

No.213 朝雲

Asashio Class Destroyer

Statistic
HP
16
Firepower
10 (29)
Armor
6 (19)
Torpedo
24 (69)
Evasion
43 ()
AA
9 (39)
Aircraft
0
ASW
21 ()
Speed
Fast
LOS
5 ()
Range
Short
Luck
8 (49)
Build Time
Slot
Unbuildable[?] 22min[?]
2
Stock Equipment
12.7cm Twin Gun Mount
61cm Quad Torpedo Mount
- Locked -
- Locked -

Upgrade

Asagumo Kai

No.419 朝雲改

Asashio Class Destroyer

Statistic
HP
31
Firepower
12 (49)
Armor
14 (49)
Torpedo
28 (79)
Evasion
()
AA
16 (49)
Aircraft
0
ASW
()
Speed
Fast
LOS
()
Range
Short
Luck
12 (59)
Build Time
Slot
Lv35 Remodel
3
Stock Equipment
12.7cm Twin High-Angle Mount (Late Model)
Type 94 Depth Charge
- Unequipped -
- Locked -
Quotes
Event
Japanese
English
Note
Introduction

朝潮型駆逐艦、朝雲、着任したわ!
貴方が司令…かぁ。ふうーん。ま、いいわ。私がやったげる!
Asashio-class destroyer, Asagumo, reporting in!

So you're the Commander... huh. Hmm. Well, it's fine. I'll do it!

Library Intro

朝潮型駆逐艦五番艦、朝雲よ。

盟友の山雲と一緒に、様々な戦場を駆け抜けたのよ。そう、第九駆逐隊。有名でしょう?え、知らないって?私、冗談ってあまり好きじゃないの。覚えておいてよ!

Asashio-class destroyer number 5, Asagumo.

Together with my sworn friend Yamagumo, we made it through many battlefields. That's right, the 9th DesDiv. Famous, right? Eh, you haven't heard of us? You know, I don't really like jokes. Remember that!

Secretary(1)


何、呼んだ?

What? You called?
Secretary(2)


なぁに? 私、結構忙しいんだけど。

Whaat? I'm pretty busy, you know.
Secretary(3)


なんなのよもう。え、朝雲に興味があるの? なら仕方ないわね、まぁ。

What is it, geez. Eh, you're interested in Asagumo? Then it can't be helped, huh.
Secretary(idle)


な、なに? 私、何もすることないの? まぁ、いいけどさぁ。なんか癪じゃない? そうだ、肩もんであげようか? あ、うそ。うそだから。

W-what? I didn't do anything, ok? Well, it's fine though. Did I offend you somehow? I know, shall I rub your shoulders? Ah, that was a joke. I was joking, ok?
 ⇧ for Kai form, plays Base form's Secretary Married line when sparkled
Secretary(Married)


司令、なに? あたし結構忙しいんだけど…ふぇ、なに? また、冗談。 …え、マジなの? あ、どうしよ…や、山雲はさ…えと、あの…

What, Commander? I'm pretty busy here... Heh, what? Another joke. ...Eh, you're serious? Ah, what do I do... Y-Yamagumo is... Ehh, umm...

Wedding


Show player's score


そうよ、情報は常にチェックしないと。常識じゃない?

That's right, you always need to check your information. Isn't that common sense?
Joining a fleet


第九駆逐隊、出撃します!山雲、いつも一緒だからね!

9th DesDiv, heading out. Yamagumo, you're always with me!
Equipment(1)


ふーん、いいじゃない。ありがとう。

Hmm, alright. Thanks.
Equipment(2)


あら、まぁいいんじゃない?うんうん。

My, is it alright? Yeah, yeah.
Equipment(3)


もらっといたげる!

I'll take it off your hands!
 ⇧ shared with expedition selection, resource collection, instant repair and development
Supply


そうよ、補給は大事なんだから。あっそうか、司令は知ってるわよね。

That's right, supplies are important. Ah, I see, you knew that already, Commander.
Docking
≤ minor damage


お風呂いただくわ。の、覗かないでよ?

I'll take a bath. D-Don't peek, ok?
Docking
≥ moderate damage


お風呂入る。んもーぉ、タービンはしっかり整備してって言ったのにぃ!

I'm getting in the bath. Geez, even though I said to properly service my turbine!
Docking
complete

Ship construction


司令、新しい子がきたみたいよ。どうなのかな。

Commander, it seems a new child has been completed. I wonder what they'll be like?
Return from sortie


作戦完了。艦隊が母港に帰投したわ。無事で何より、よ。

Mission complete. The fleet has returned to base. It's good to see everyone's safe.
Start a sortie


駆逐艦朝雲、抜錨します。任せておいて。

Destroyer Asagumo, setting sail. Leave it to me.
Battle start


敵艦見つけたわ!撃ち方はじめ!第九駆逐隊、突撃します!

I found enemy ships!, begin firing! The 9th DesDiv will attack!
Air battle

Attack

第九駆逐隊を、なめないでよ! OR

いけるいける、まだ進めるわ。

Don't underestimate the 9th DesDiv! OR

We can do it, keep moving forward!

Night battle

Night attack


夜戦、かぁ。ううん、やってやるわ!

Night battle, huh. No, we're doing it!
 ⇧ shared with day/night special attacks, support expedition team arrival
MVP


ほら、私じゃない?陽炎型なんかに、まだまだ負けないわ。当たり前じゃない!

See, isn't it me? I won't lose to the likes of the Kagerou-class. Obviously!
Minor damaged(1)


はぁっ!こんなの…!

Aah! Something like this...!
Minor damaged(2)


ちっ…痛いじゃない!やめてよね!

Tch... It doesn't hurt! Stop it!
≥Moderately damaged


や、やられた…でも、まだ航行できる…!沈むもんか!

Sunk


…ふふ、山雲…また、一緒だね。わたし、寂しくなんか、ない…ない、から…

...Fufu, Yamagumo... We're together again. It's not like I'm... like I'm lonely, you know...
Trivia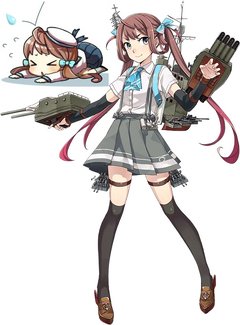 Her name means "Morning Cloud"
After her addition during Fall 2014 Event, some players quickly noticed the striking resemblance to one of the NPC girls featured in the game's error banners. Coincidence...?
Sunk as part of the Nishimura Fleet at Surigao Strait during the Battle of Leyte Gulf, 

 25 October 1944.
See Also
Community content is available under
CC-BY-SA
unless otherwise noted.