Theme Singles
Color of the Sea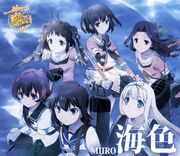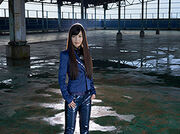 OPテーマシングル「海色(みいろ)」 AKINO from bless4 (OP Theme Single 「Kaishoku(Miiro)」 AKINO from bless4)
Artist: AKINO from bless4
Lyrics: (1) minatoku, (2) SugarLover
Composer: (1) WEST GROUND, (2) Saito Yuuya
Arrangement: (1) WEST GROUND, (2) Saito Yuuya & Itou Mitsuya? (伊藤ミツヤ)
Publisher: Victor Entertainment
Expected Release: February 18, 2015
Track 1: Color of the Sea
Track 2: Just Moving On Now
Track 3: Color of the Sea (Instrumental ver.)
Track 4: Just Moving On Now (Instrumental ver.)

みいろ (miiro) is an alternate reading of 海色 (kaishoku)
Fubuki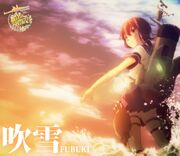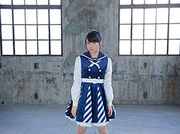 EDテーマシングル「吹雪」 西沢幸奏(にしざわしえな) (ED Theme Single 「Fubuki」 Nishizawa Shiena)
Lyrics: (1) minatoku, (2) Micco
Composer: (1) Hige Driver, (2) Tanaka Jun'ya
Arrangement: (1) WEST GROUND & Saito Yuuya, (2) N@oki
Publisher: Victor Entertainment
Expected Release: February 18, 2015
Track 1: Fubuki
Track 2: Meaning
Track 3: Fubuki (Instrumental ver.)
Track 4: Meaning (Instrumental ver.)

Fubuki means snowstorm or blizzard, as well as being a ship name. Within the abbreviated PV, it points towards the ship.
Unknown
Artist: Fujita Saki, Iguchi Yuka, Nomizu Iori, Touyama Nao, Sakura Ayane, Uesaka Sumire

As: The Ship Girl Special Fleet (Akagi, Kaga, Zuikaku, Kongou, Shimakaze, Fubuki)

Lyrics: minatoku, Shunsuke Matsui
Composer: Houno Satoshi
Arrangement:
Publisher: Flying Dog
Expected Release:
Track ?: Let's not say "good-bye"