Description
Edit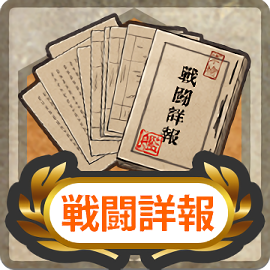 本資料の活用により、貴重な戦訓を今後の戦術や装備改修などにフィードバック可能です。
※艦隊司令部の更新には、複数 の戦闘詳報が必要です。
By using this material, It is possible to feed valuable warfare to future tactics, equipment, refurbishment etc.
In Kanmusu Remodels
Edit
The following remodels require one copy of this item:
The following equipment conversions through Akashi's Improvement Arsenal require this item:
ID
Requirements
Rewards
Note[Edit]
F64

「遊撃部隊」艦隊司令部の創設


The Establishment of the Striking Force's Fleet Command Facility
Prepare 2000 Steel, 10 , and 2 Action Report in your inventory. Have any ship as secretary equipped with a Fleet Command Facility in her first slot. Scrap 3 radars.

0 / 300 / 0 / 0
Striking Force Fleet Command Facility x1
Acquisition
Edit
Events may reward this item for clearing certain maps on certain difficulties. Previously, this item was rewarded for completing:
This item was also given out during the Fall 2017 Event as a reward for completing a limited-time quest.
Script error
Community content is available under
CC-BY-SA
unless otherwise noted.